Turning Archive
Subject:
Glaser Hitech vs JT Turning Tools??
John K Jordan
I'm confused. What is the story on Glaser tools?
Maybe 15 years ago I bought a Glaser screw chuck and today still find it the best - I like it better than the wormwood screws that come with some chucks like the Nova. It has a removable and reversible "faceplate" to provide three different diameters of work support. I use it on every bowl and platter I turn.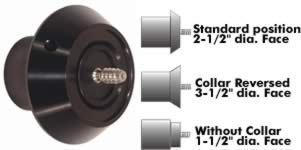 For some reason I thought Glaser went out of business and quit selling these. I had tried to buy a second screw chuck and couldn't find one.
I see on the Glaser Hitech web site that Glaser Engineering was bought out by Paolo Marin in 2005: http://www.glaserhitec.com/shop/glaser-timeline/ The screw chuck is available and although unclear from the picture on the web site it looks the same with the addition of white painted text: http://www.glaserhitec.com/shop/shopping/glaser-hitec-screw-chuck-1-14x8tpi/# That page indicates "his patented technology has the distinction of being the only American-Made chuck."
Today I see JT Turning tools is offers a "VersaChuck" screw chuck that looks pretty much identical from the photos: https://jtturningtools.com/versasystem
Does anyone know the details about this chuck? Does JT license from Glaser or vice versa? Are the two significantly different that the indicated patent is not valid?
Interesting (and more confusing) is this statement on the JT Turning Tools web site: "NOTICE: Recently it has come to our attention that some of our product ideas are being blatently [sic] copied by others. Given the "let's play fair" and loyal nature of the woodturning community we hope that our customers and prospective customers will be inclined to support all original manufacturers of uniquely designed products..."
Also, the JT Turning Tools page indicates they will be closed till May 22, then another note that they will be closed "will be closed for a few more weeks."
Is there a back story here? I certainly believe in the "let's play fair" philosophy and don't want to support anyone copying (as with the SS Niles bottle stopper copy).
If I want another screw chuck, which company should get my money?
JKJ

Messages In This Thread