Hand Tools Archive
Subject:
Shaping the cove moulding
Derek Cohen (in Perth, Australia)
Here are pictures of shaping the cove.
A couple of points first, I ran a revised cove past Lynndy, who gave her approval. Secondly, I reduced the thickness of the rails from 30mm to 25mm. I thought the original was too chunky once the pieces were shaped. So I bandsawed/planed away 5mm. This definitely looks better.
It was easier to test out the moulding process on the upper- and lower straight rails, so this is where I began.
The first step was to mark out the groove for the panel. This was done with a knife gauge - even though I would be ploughing with the grain, I did not want any chip out at the shoulders.
The lines were chisels to remove material at the walls ..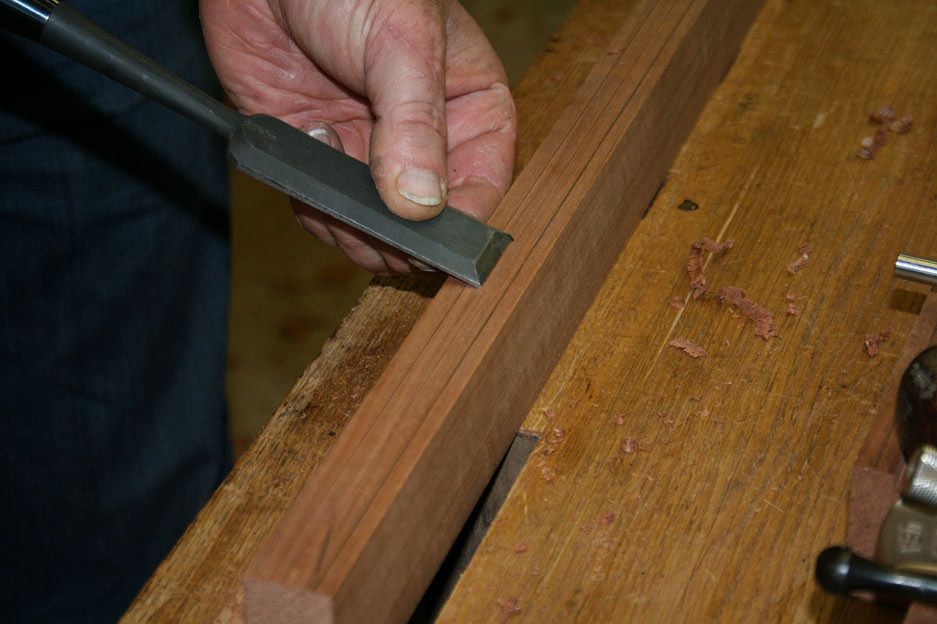 .. and then knifed again to remove the waste ...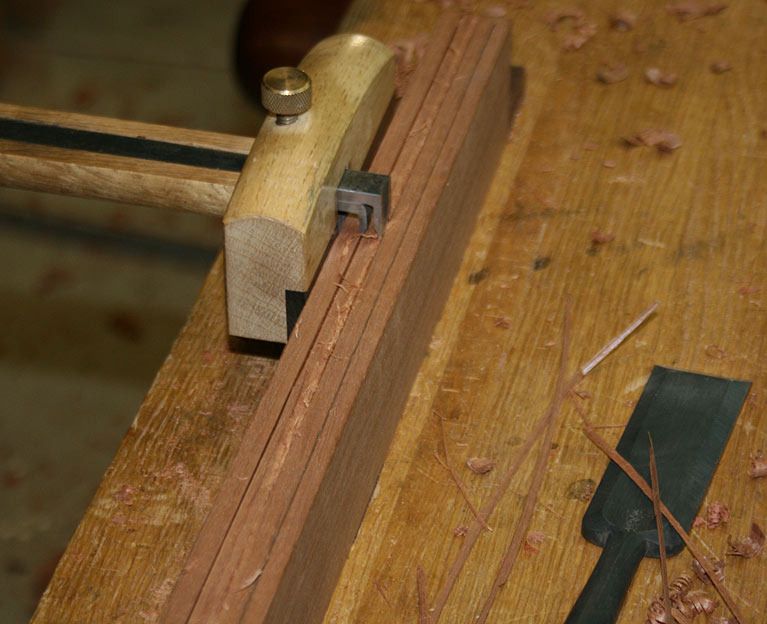 It was then a simple matter of ploughing to the depth of 1/4".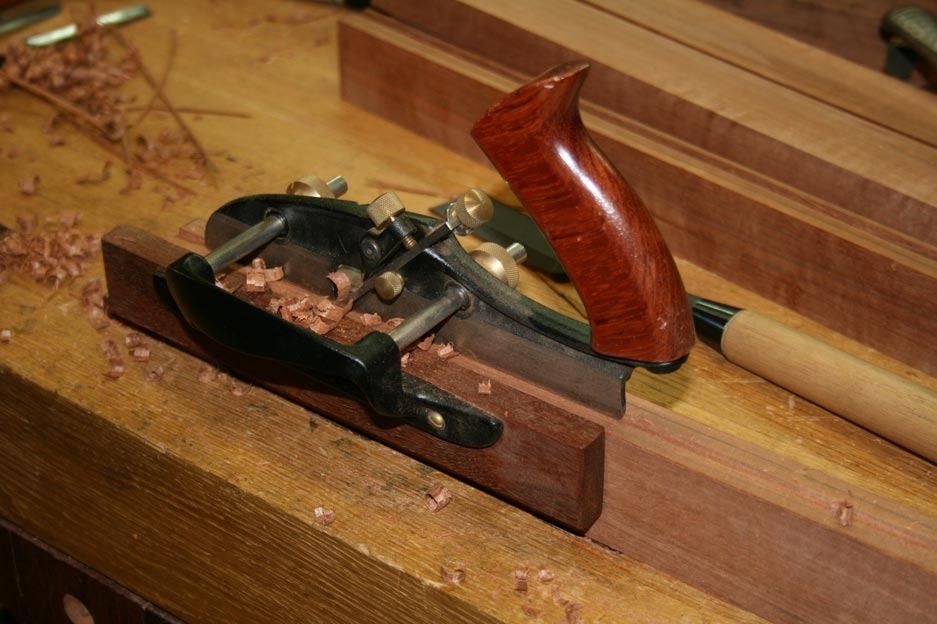 The boundaries of the cove were scored on each side with a cutting gauge, 1/4" wide on the upper side and 1/8" deep (which is half way to the groove). Then the waste was block planed away close to the lines. On the curved side rails it was easier to use a spokeshave to do this) ...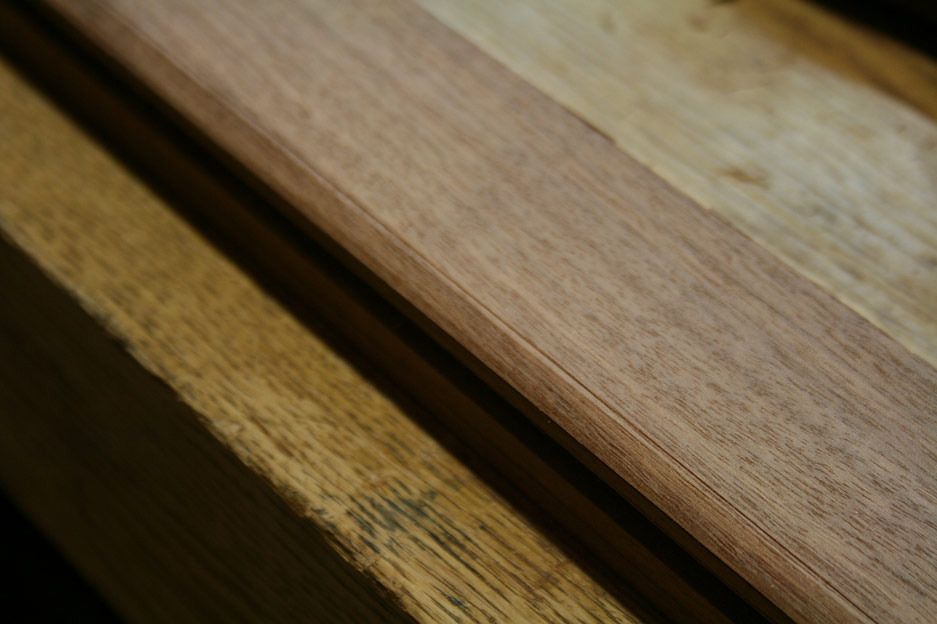 I shaped a scraper blade from a 3/4" wide scrap of bandsaw blade ...
This fitted so in a Stanley #66 hand header ...
Working to the lines ...
Shavings ...
The result on the straight sections (with some scrap fitted to the groove to show the transition) ..
Differences when shaping the curved rails ...
The first was to use a gauge with a small fence as it needed to run inside the curve ...
The other was to use a router plane (with fence) in place of the plough plane ...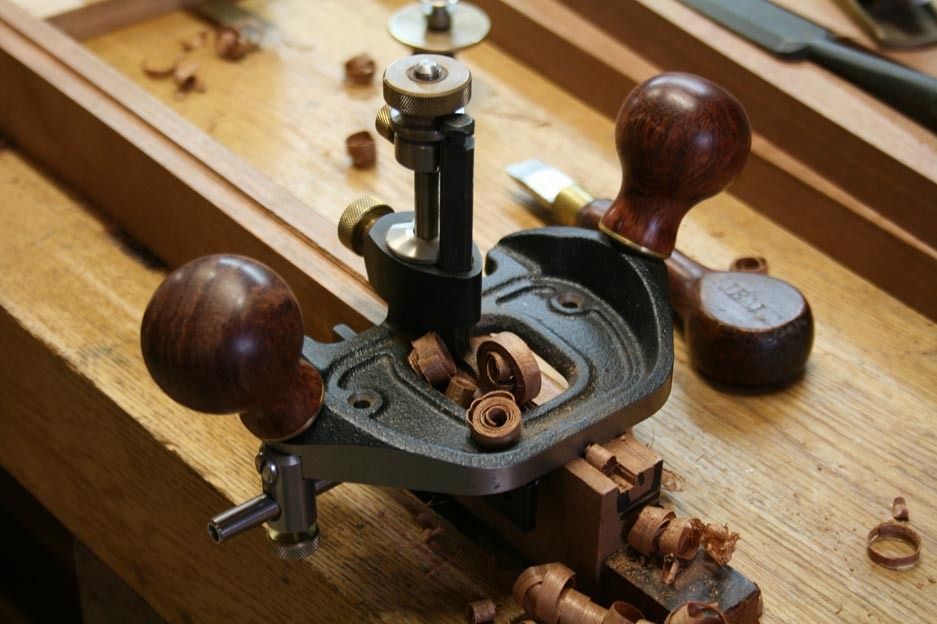 The results were the same ...
Back next time after the side panels are completed.
Regards from Perth
Derek