Messages Archive
Subject:
Upgrading Festool ribbed hoses
Derek Cohen (in Perth, Australia)
Some weeks ago now, I became aware that my Festool CT26e vacuum cleaner was not sucking as strongly as it should ..
I have had the vacuum cleaner for about 5 years, and thought perhaps it was time to clean out the HEPA filter! This was done, and the performance seemed to return to original levels.
Just for reference, the HEPA filter looked pretty clean on one side, while the other was lightly dirty on the outside. Wacking it did dislodge a reasonable amount of dust from between the filter layers. One reason for the lighter-than-expected amount of dust was that it was used with a small cyclone, in this case, a Dust Commander. This replaced a Dust Deputy, which does not have anti-static properties.
All this got me thinking about what could be done to improve the hoses used. There are four in the collection: the standard (green) 27mm Festool; a 35mm (blue) Bosch, which is identical to the 36mm Festool at half the price; a (black) 27mm Mirka, which is dedicated to a Mirka Ceros ROS sander; and a 20mm (black) Mirka hose, which is for the Mirka hand sanders.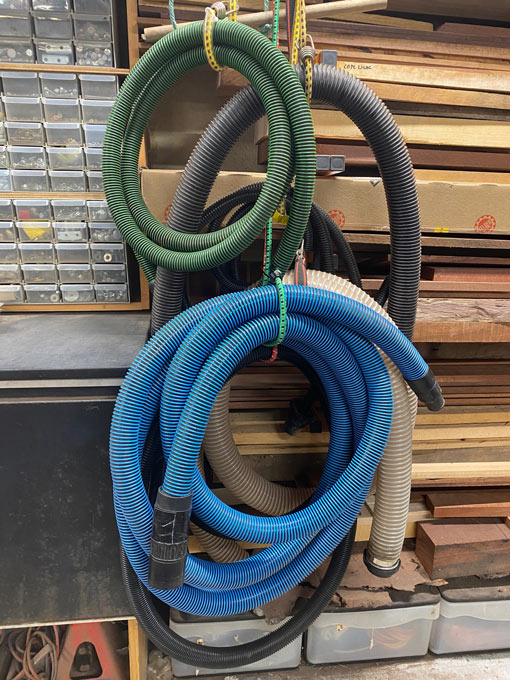 I became aware of these fancy new hoses from Festool, with smooth braided sides, and which were advertised for improved handling ...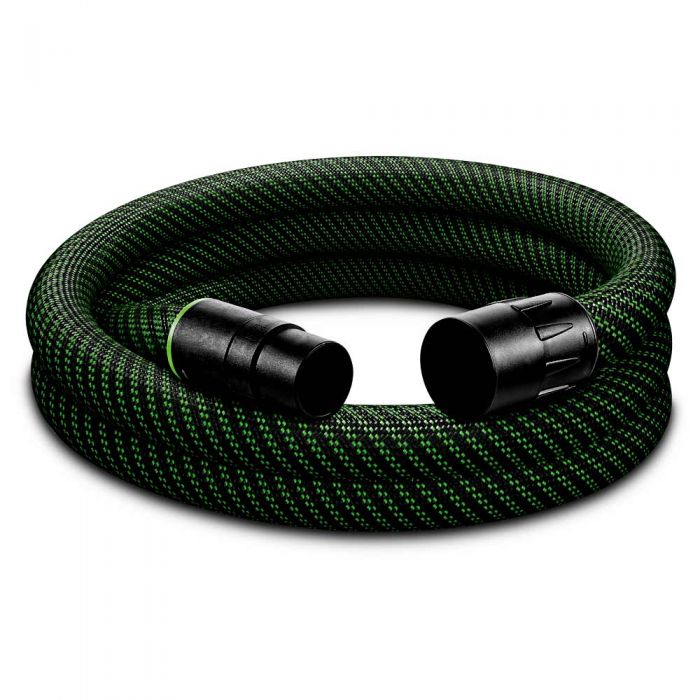 Could the new hose design be different from the old hose design? It was interesting to look at the inside of my hoses. The ribs appear small - much smaller internally than suggested from the outside or if one looked at those hoses used in dust collection systems ...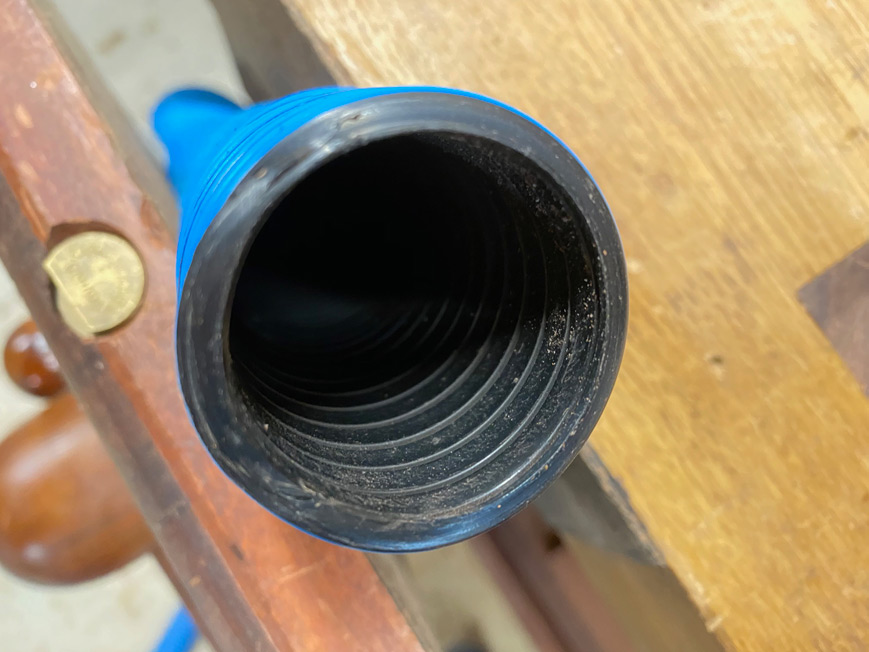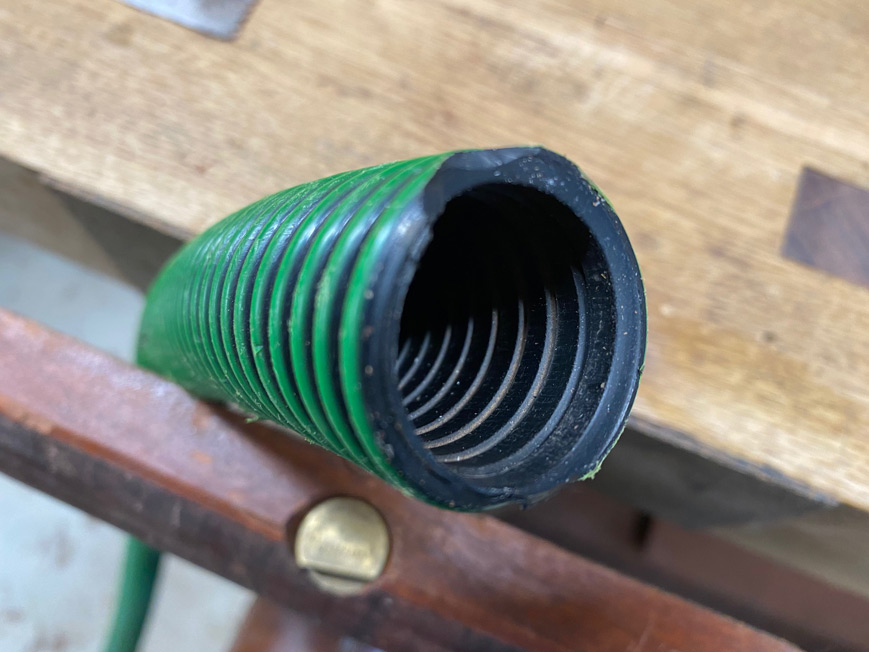 I decided that it would not be cost-effective to replace the hoses for the braided exterior.
Then I came across a video of hoses being covered in the same material as those on the braided Festool, above. Rather than paying hundreds for a new hose, it would be possible to add a covering to each for about $10. Why do this? Because those damned ribbings catch when the hoses are slid along a bench top. This is an irritation when used with a sander, but dangerous when used with a router.
The woven covering is durable and said to offer a protective sheathing for the hoses. Where does one get these coverings? Just Google "BRAIDED HOSE SLEEVE KIT".
It looks like this. I chose black for all ...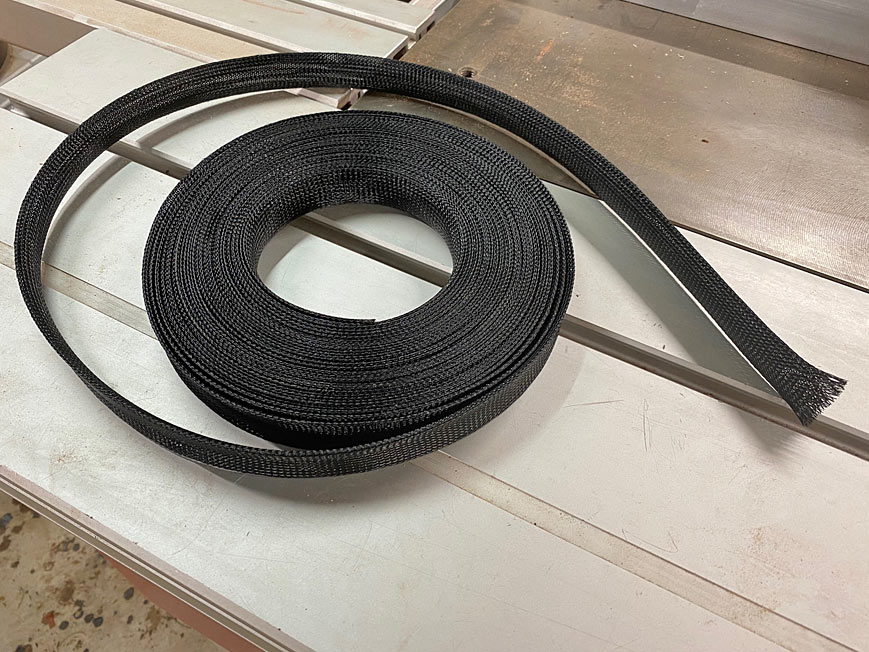 Remove the fittings ...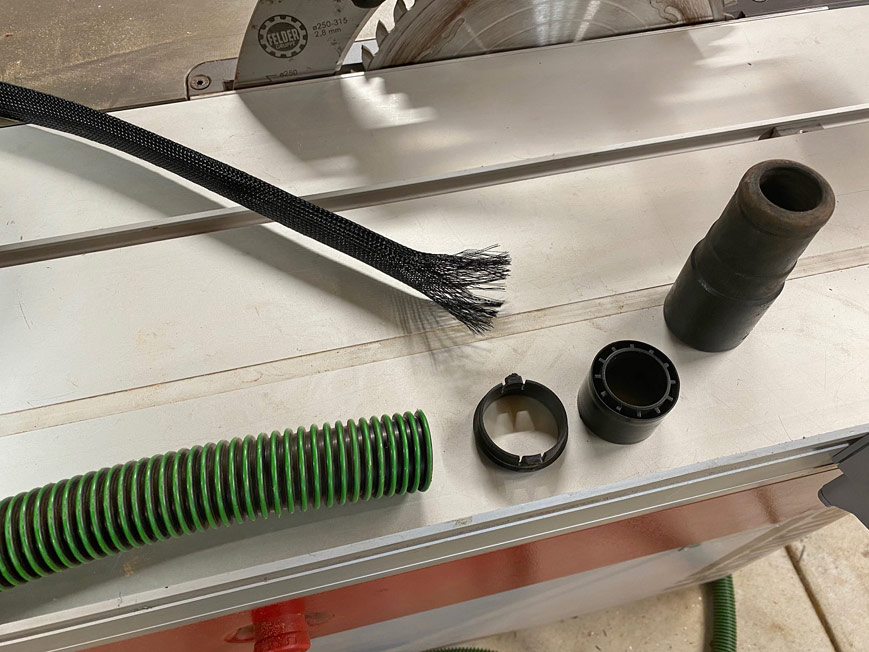 Slide the hose in, tape down at one end, and then smooth it back to the start and pull tight ...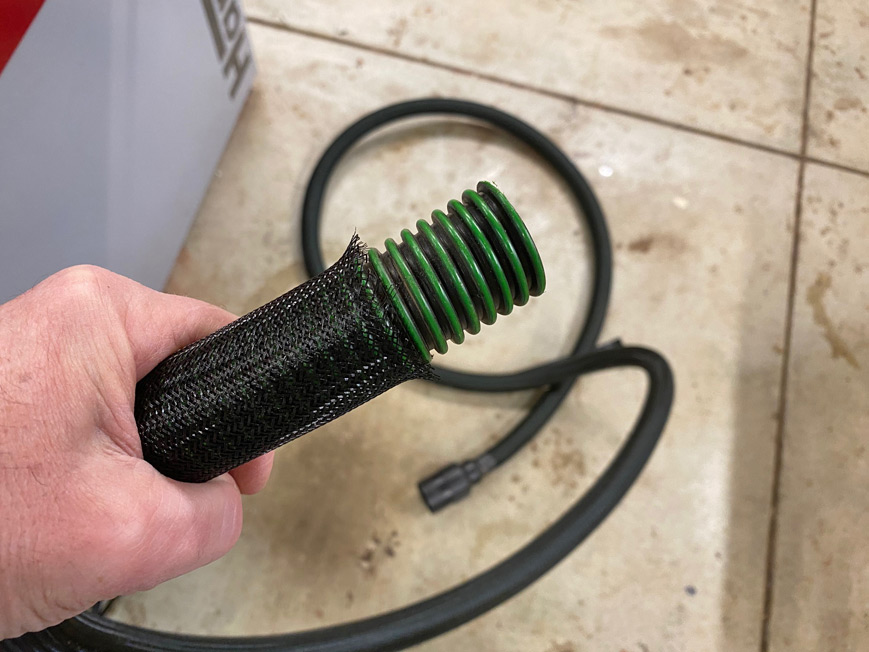 I used self-sealing tape ...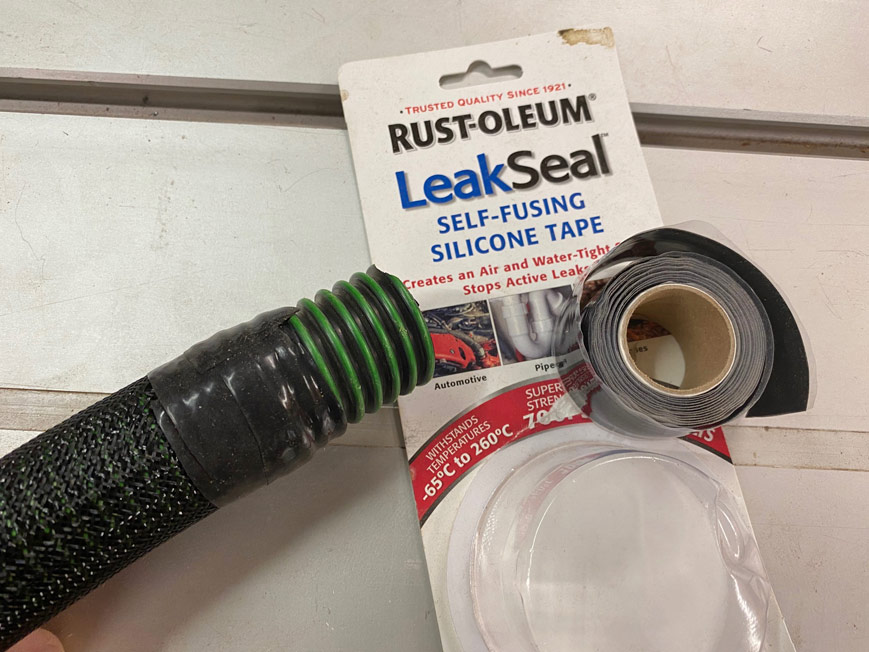 ... and replace the fitting ...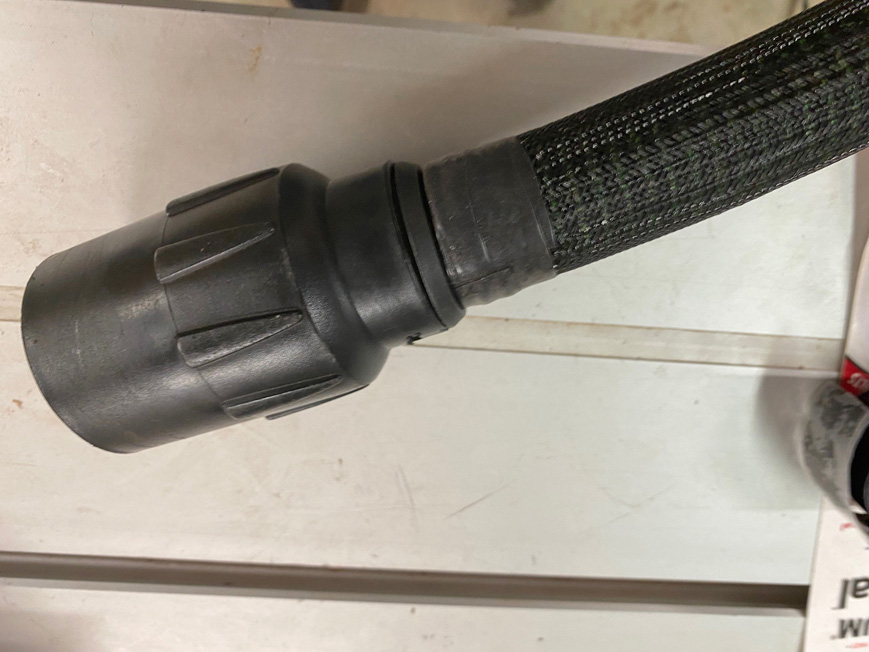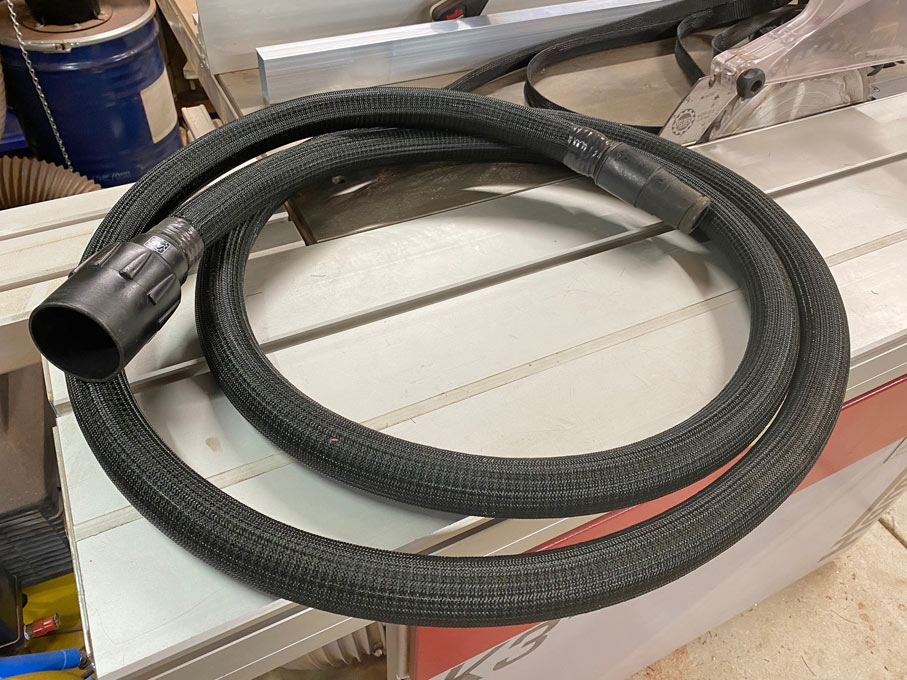 Each hose was colour-coded for ease of recognition ...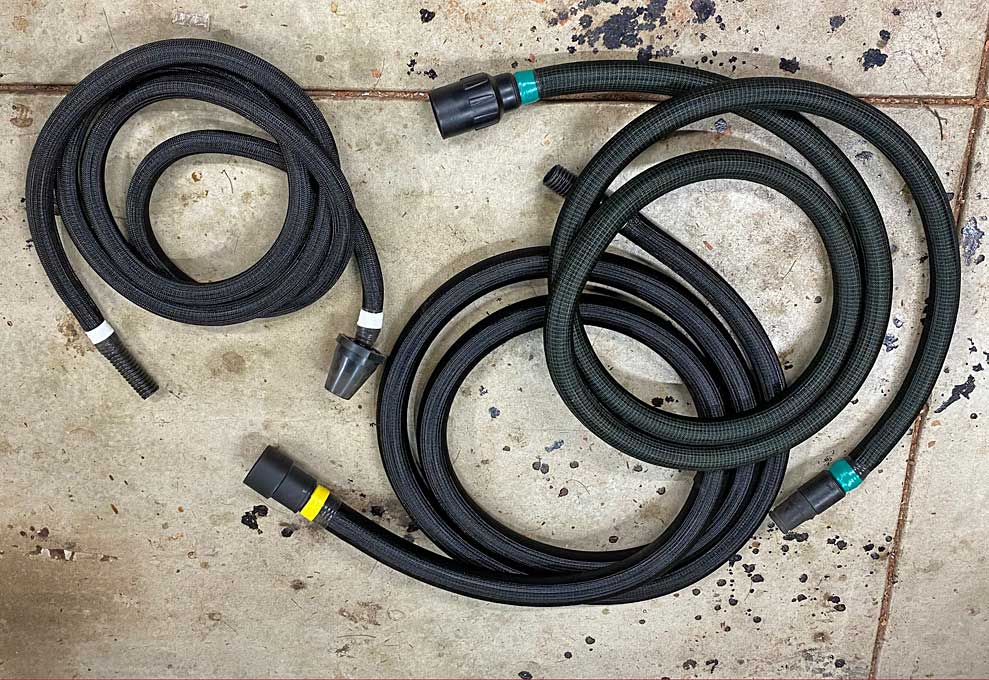 I am now waiting on braiding for the Bosch hose ...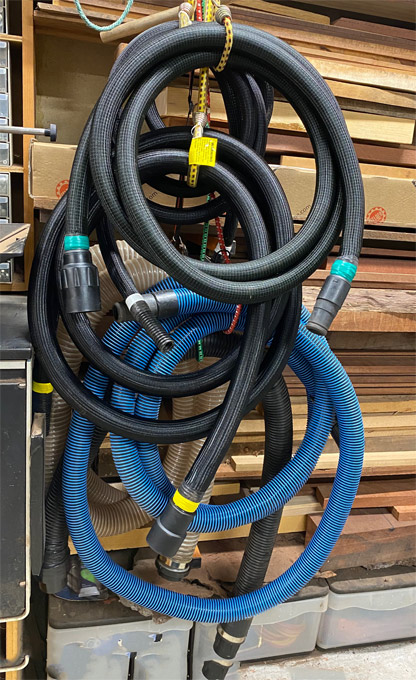 In use, the hoses are magic. They feel so nimble and easy to move around ... one is far less aware of their presence.
They come in all colours. The hoses covered all used a 25mm diameter for the 20 - 27mm covering. The 35mm hose will require a 50mm diameter.
Regards from Perth
Derek