Messages Archive
Subject:
What style is this?
Joe in a Cleveland suburb
What style would this dresser be called? I've always thought Federal but Googling Federal style furniture I see pieces that are much fancier than this.
The background on this is that my parents have told me over the years that my dad's family brought it with them when they move from Indiana to Ohio which was in the latter part of the 1800's. We recently moved my folks from assisted living to a skilled nursing facility and it (finally) ended up with me. I've always liked this piece. It's exactly the kind of antique I like from its design/style to its roughness and patina. I have the missing knob and I believe the wood is cherry.
I wouldn't know exactly its age, but I was able to look at it a bit closer last night than I have before. It's really interesting to see all the hand plane and tool marks, the rough unseen surfaces, square nails here and there, not so perfect dovetails in the drawers and case work and so on. The panels are all raised towards the interior. It's interesting to see that the panels were raised with a hand plane and the maker wasn't too concerned with perfection, or was in a hurry to get it done and sold maybe.
I don't know what the material is surrounding the keyholes but it appears to be made out of some kind of shell .
Thanks for any insights anybody might share on this design of furniture and so on.
#1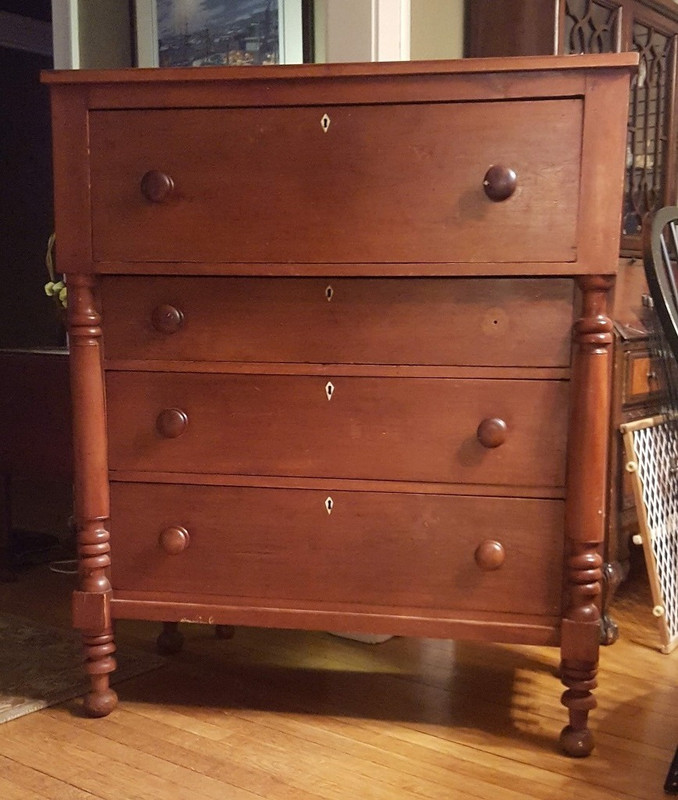 #2