Date Tuesday, 10 May 2022, at 11:21 a.m.
Derek Cohen (in Perth, Australia)
This time last year I completed a chest of drawers for my bench and posted photos of the build, as well as the content of some of the drawers. The incentive at the time was to begin the process of rationalising my hand tools as I slowly begin the countdown to retirement and downsizing. I have been selling or giving away the excess tools.
Now this might at first sound as though I have pared my hand tools to just a few, but that is a relative statement
I still have too many tools, but the chest holds memories as well and, frankly, these were accumulated over the course of 30 years. So what we have here are my jewels, and I offer pictures of them to share, for discussion if you wish, but mostly to get some activity on this Hand Tool Forum!
The chest under the bench ...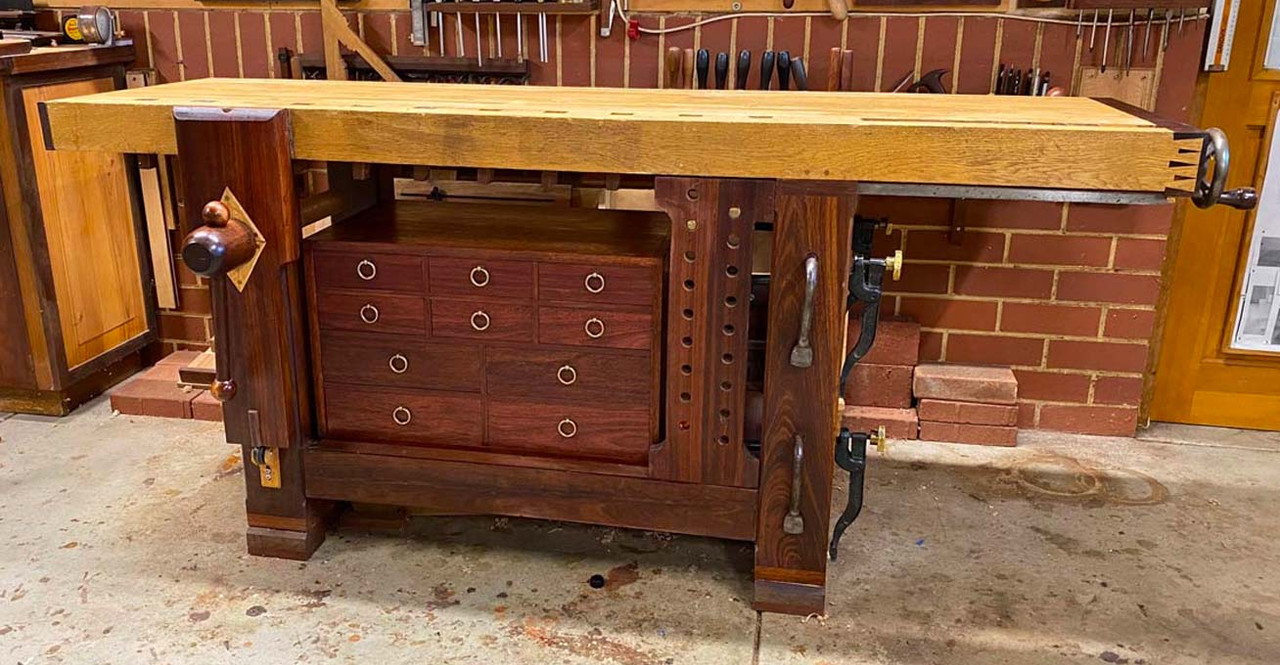 Ten drawers in all. Just the top row for now ...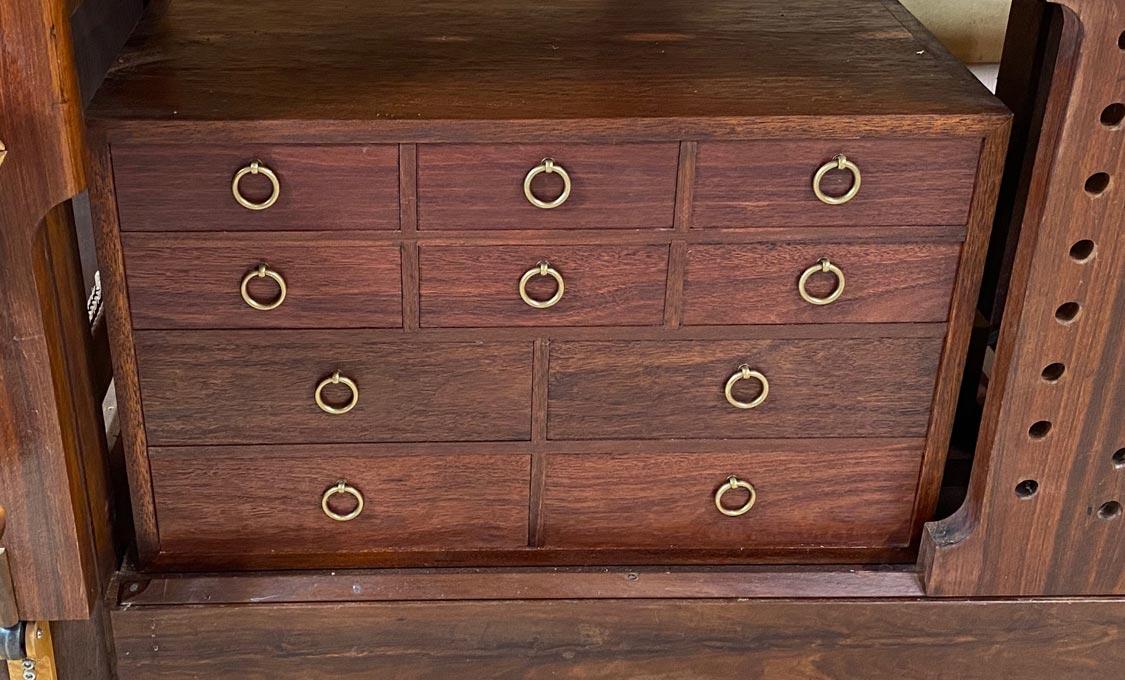 Drawer #1 (top left) ...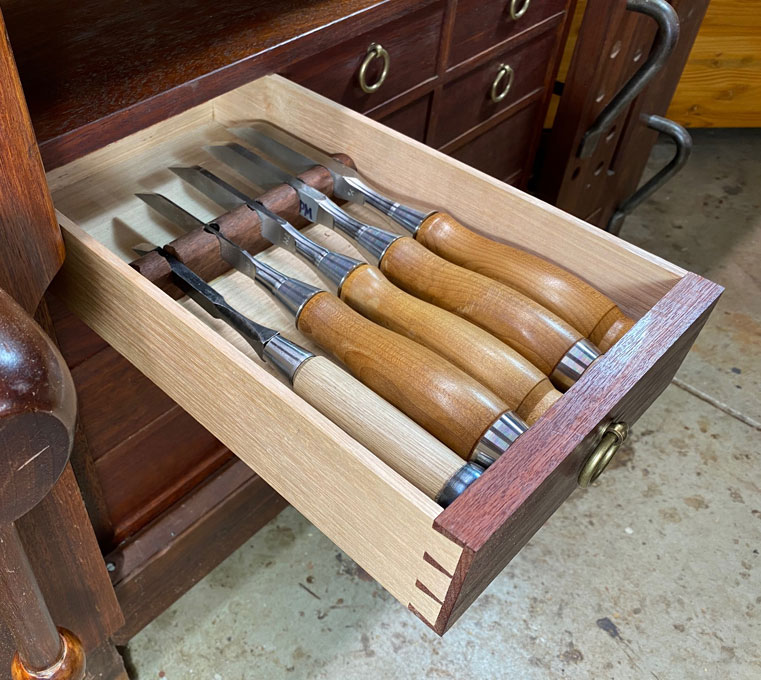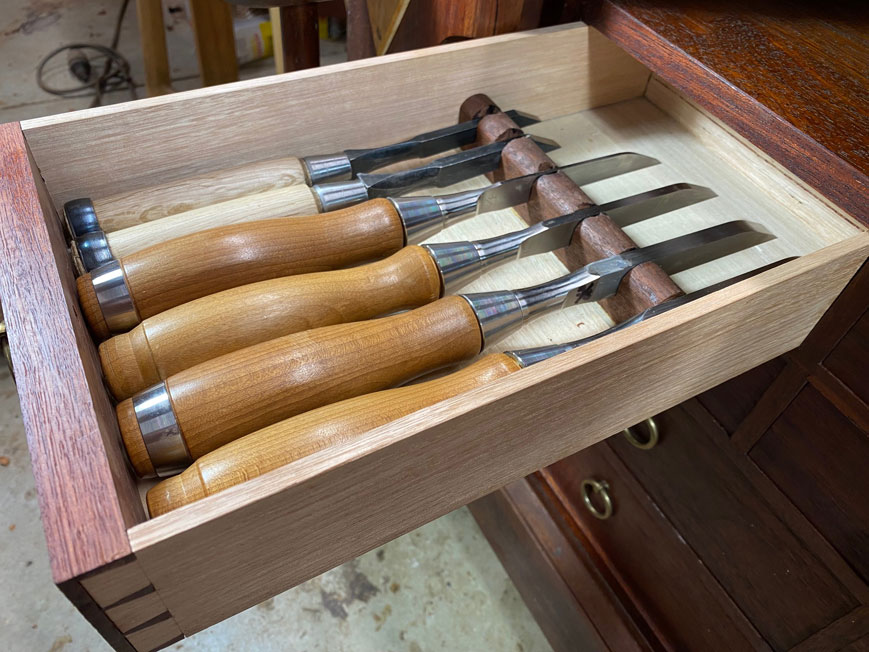 Mortice chisels. Two Fujikawa on the left in 6mm and 9mm; Four Veritas in 1/8", 1/4", 3/8" and 1/2". The Veritas were courtesy of pre-production testing, which began with comparing A2 and PM-V11 steels and different size handles. These are not production chisels, which is why some of the hoops are missing. I liked these chisel much better than the Ray Iles chisels (sold) and a set of vintage Ward English Bolstered chisels. The Fulikawa represent my love for Japanese chisels. I prefer the shorter chisels when looking for more finesse.
Drawer #2 (middle) ...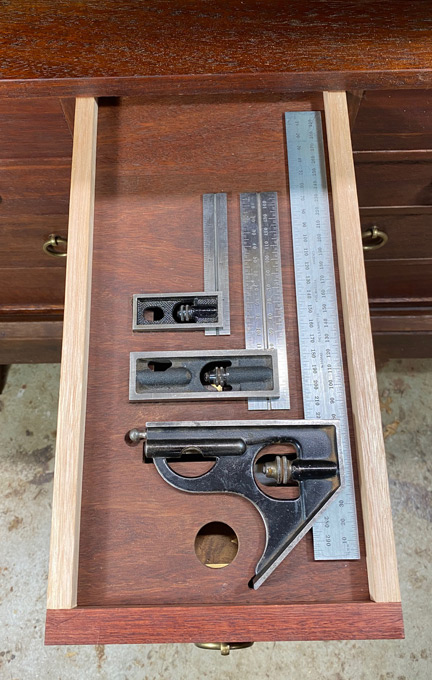 Three Starrett squares: 300mm combination; 150mm double square; and a 4" double square. Good for matching to the size of the work piece.
All these tools are French-fitted into panels.
Slide back the panel, and below is another compartment holding a mix of Colen Clenton mitre squares infilled in Sheoak, a pair of Chris Vesper 4" and 7" squares infilled in Tasmanian Blackwood, and a 2x2" Bridge City saddle square ...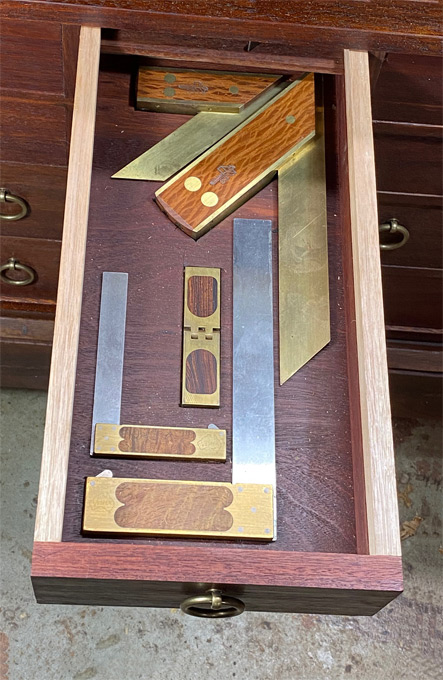 One of the Clentons was a trade with Colen for marking knives I made, which was a blast for me since he is one of the top toolmakers in the world, and the other was a prize in a tool-making competition. The Vesper squares are special as Chris is a good friend, and we have shared a booth at Woodshows many a time. I would consider Chris the absolute top toolmaker around.
Drawer #3 (top right) ...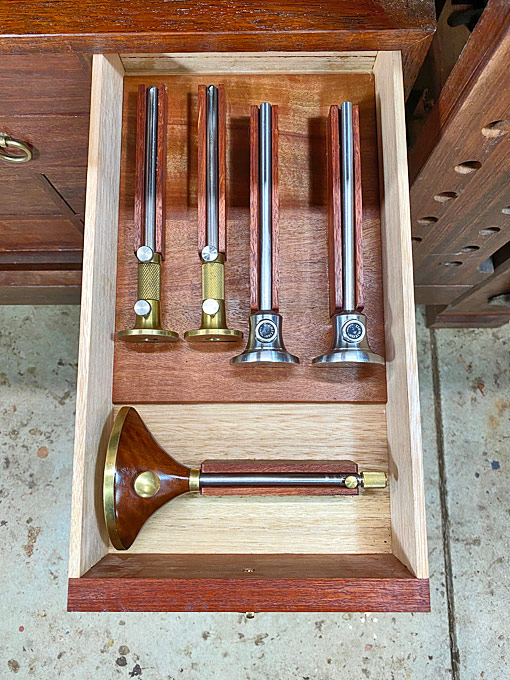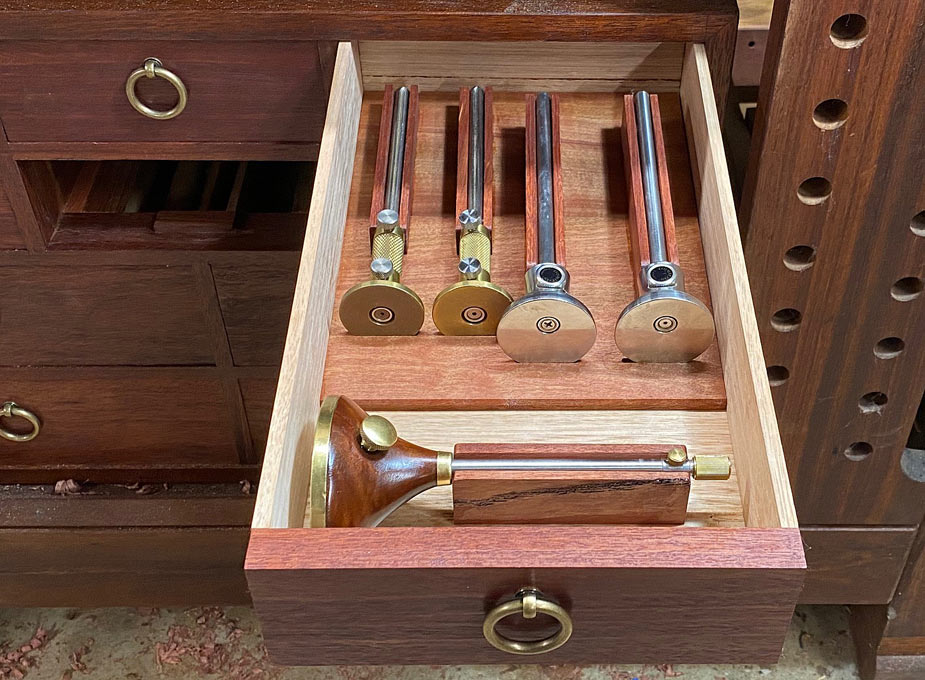 Wheel cutting gauges: Two Tite-mark and two Veritas. Tite-Mark are the best adjustable types, which does come in handy (but not essential). The non-adjustable Veritas were offered about 10 years ago as their Anniversary model, in stainless steel. An absolute bargain at the time. They are now only available in brass. At the front is a wheel gauge I made.
Hope this has been of interest.
Regards from Perth
Derek