Messages
Subject:
Re: I don't like commenting on visual....but
Alan Young
for the future, consider toning down the the castle nuts on the stand tilt mechanism. These face the audience and I find them slightly distracting.
Gary-I am in some agreement with you. The design dynamic in working with my Dad was interesting-He always approached his work from a mechanical problem to be solved. He also had a good eye for aesthetics-in this case we didn't get to work together for a second iteration-As I mentioned somewhere in an earlier comment this was a prototype-I am very happy with the functionality of the design. I would like the form factor to be @ 80% smaller-this would possibly mean that the interior gearing may go back to a four position rather than five position adjustment. Dad was "really happy" to have found those brass acorn nuts- But a new iteration would probably be better if the mounting hardware and the bracket were of the same material/tone color-perhaps the bracket can be made slightly smaller and in brass?

Also have the musicians mentioned anything about having a raised ledge or a pop up lever on the horizontal piece to keep the music pages from flipping unexpectedly with the prospect of fan air or air conditioning?
I did implement a brass bar along the horizontal ledge on the design for the Salgamundi stands.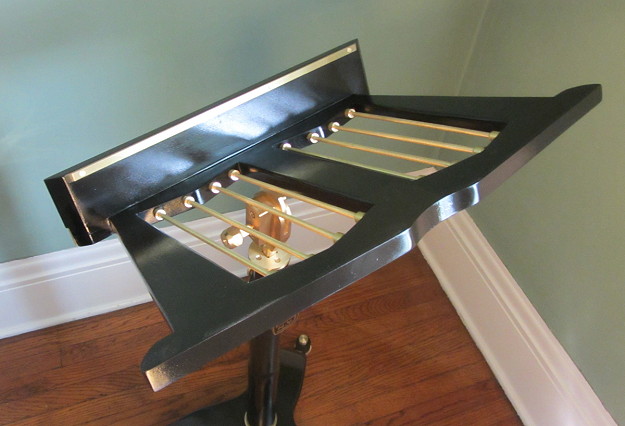 I left them off the last two iterations. I've had no comments either way...