Turning Archive 2006
Subject:
Hamilton Woodshow Review *LINK*
Jim Shaver - Oakville, Ontario
>Hello,
Yesterday I attended the annual Hamilton Ontario Woodshow. I go every year and I enjoy the show and also the venue, the Heritage Warplane Museum.
This year though was different for me, I was attending as a member of the Golden Horseshow Woodturner Guild and I would be turning at a lathe for part of the day at the club booth. I have often seen their booth in the past, always stopped and finally last March joined the club, it's a good sized group of about 175 members.
The club booth was set up near the main entrance and we had 4 mini lathes and a set up that was easy and convenient for the public to stop and watch, even chat and ask questions or share their thoughts. I had never turned in "public" like this before so it was kind if exciting for me.
The other club members present all had some of their work on display and I was able to appreciate the wide diversity of talent in the club, their work drew much public attention.
I turned pens for most of the day and I had a fun time. I met some forum members, met an old work colleague I had not seen in 14 years, spoke with many people about pen making, tools, lathes, the turning club and so on. I started to turn at 10:30 Am and before I knew it was 5PM, I had not stopped to eat or even make a visit to the washroom, I could not believe how fast the day went.
The most fun part of the day for me was speaking with people and showing them the process of turning, finishing and assembling a pen. Some of the most common questions were.."What are you making.." " How much does that lathe cost.." " How do you do that..". I enjoyed conversations with a machinist who works on a metal lathe the size of a bus he said, he was intrigued by the small scale of the turnings on the little lathes….a lady in her 60's who told me she always wanted to be a carpenter and that she loved Norm… a 12 year old boy who wanted to know how to get into pen making… a few pen turners who kindly shared with me some of their processes and many many others…it was fun.
In the course of the day I also met people who wanted to see the finished work and could not watch long enough, so for those I promised to post them here for viewing.
This is a Gentlemen's roller ball pen, made with a stabilized box elder burl , dyed red,

This is a cigar pen made with a blue acrylic blank from Craft Supply
This is a Junior Gentlemen's roller ball pen, made with a natural stabilized box elder burl,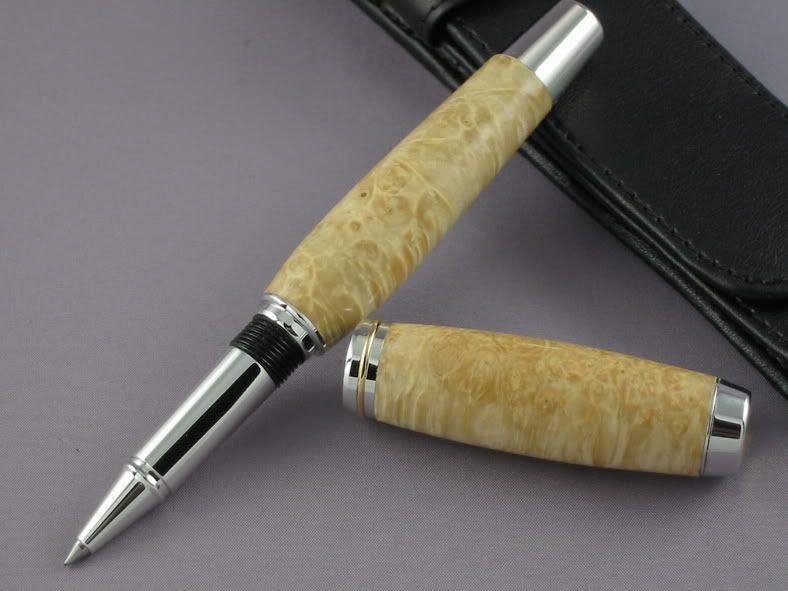 This is a cigar pen made with a Rockler acrylic, pre drilled and sold with the tubes already glued in place,

And this is a Junior Gentlemen's roller ball pen on a blue and gold stabilized box elder burl.

I totally enjoyed the day. I actually never got out from behind the lathe to see the show or the airplanes!
The experience of meeting many people and the conversations was a huge highlight for me. I also learnt a few things as well through the day from my fellow club members, I am very lucky to belong to such a great and supportive club, The Golden Horseshoe Woodturners Guild.
Oh and Ellis, I wore my WoodCentral Denim Shirt, it was well recognized!
Thanks for viewing,
Take care,
Jim
Messages In This Thread
Hamilton Woodshow Review *LINK*