Turning Archive 2006
Subject:
Bowl/Hollow form Steady Rest *PIC*
Jim Ketron
>As most of you know I like to build my own tools and accessories when I can, and I have been putting off building this rest for a while. I was at the point doing all the hollow forms lately where it was a necessary item on the deep hollow forms to help keep the HF from being riped off the chuck, and also helping reduce chatter. I have built Mr. Big Mike Stafford a 4 wheeled steady and he informed me the design of the last one was bulky and needed to be reduced somehow ( it was square) Me and Mr. Travis Stinson had been talking in chat about what could be done to reduce the size and bulk of the original Steady and he come up with the great idea of making it a octagon shape. That has been over 10 months ago and I have been putting this off for that long Travis beat me to the punch, and already made his, He said it works great so I decided to go with his design
I have already used it and It works wonderful!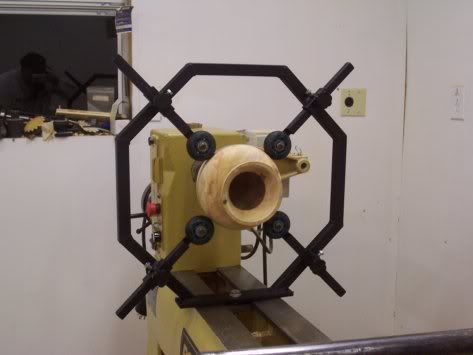 Messages In This Thread
Bowl/Hollow form Steady Rest *PIC*