Turning Archive 2005
Subject:
My first turnings *PIC*
Curtis TX
>I have enjoyed reading this forum for a long time. Particularly all the photos you guys post. Amazing work and certainly inspiring.
I recently succumbed to the calls of the lathe and purchased a Jet Mini. I wanted to share my first two turnings. The item on the left is a maple do-dad and the other is a cherry mallet for my 15 month old son. The mallet is too small and light weight to be anything other than a toy.
I did debate posting the photo here because the quality of your photography is as amazing as your turnings. I hope you will over look my poor photography skills.
Curtis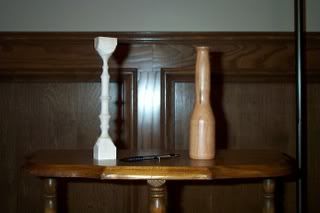 Messages In This Thread