Turning Archive 2005
Subject:
My 2005 Woodstock Wood Show
Jim Shaver - Oakville, Ontario
>Hello,
Last weekend was the annual Woodstock Wood show is now in it's 20th year. Woodstock in a small town located about an hour west of me, half way to London Ontario. The show is typically a combination of outdoor displays, portable saw mills, 5 main exhibition buildings and many outside vendors tents. Typically the show also features a carving, turning and furniture making galley of judged items.
I have been going to the Woodstock show now for about 8 years. It's one of those days I passionately look forward to every year. It is held in the early fall where the colours on the trees and the ground vegetation is still in the pre fall mode, but the air is cooling off and the sun has a special feeling when you stand out side. It's a time of year when I work out my list of last fall items for my shop and research for next season's plans. I also enjoy taking in the seminars if they sound interesting to me.
My drive is an hour, mostly highway and mostly through countryside and farm lands with a few towns along the way. I usually stop into a local Tim Horton's (Canadian landmark store, Coffee, doughnuts and sandwiches) to get my Large Black Coffee and sip it all the way down the highway listening to the Saturday morning CBC programs on the radio.
This year my friend Pierre from University days came down for the show. We left my home early enough so that I knew we'd arrive right at the show as the main gate opened.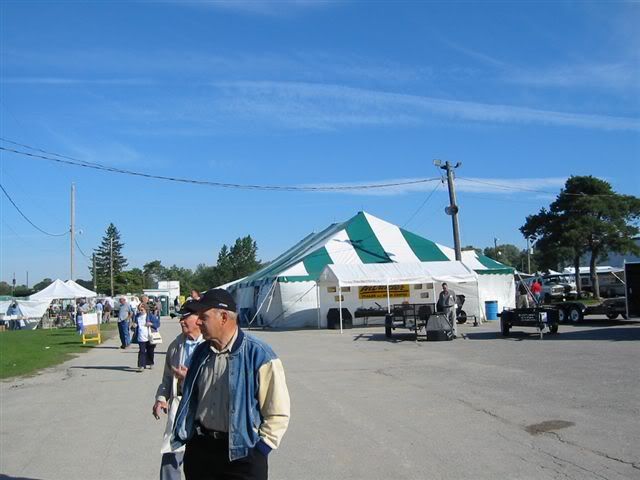 Pierre is a recent woodworker so Woodstock last year was expensive for him, he wanted to get a lathe and related tools. So I helped him spend $1500 on lathe tooling and accessories, and he still had not bought a lathe yet, he later bought a Jet VS Mini.
This year he was a little better equipped than last year, clamps, hand tools and a dado set, he spent a total less that $1k

When I first get to Woodstock at the opening of the show on the Saturday, there are two wood vendors there I like that sell small pieces of wood from trees recovered from backyards through out the Southern Ontario region. So it's a sprint to their booths and quickly to access the availability. The diversity in our hard wood forest now is very limited so for interesting small work I like to see these two vendors, they have some diversity and interesting woods that bigger shops would not carry.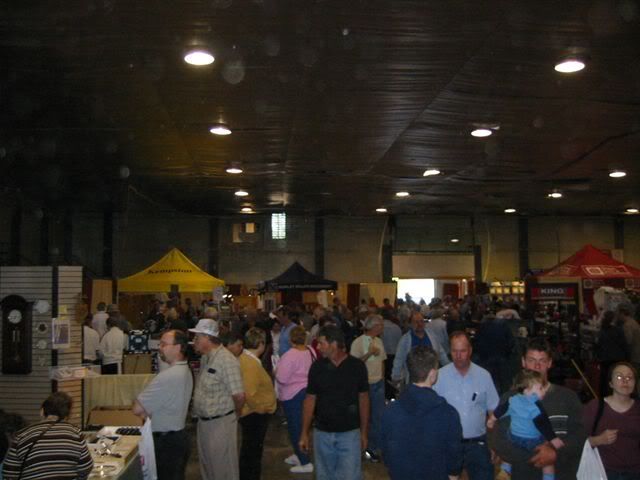 I picked up some curly horse chestnut and some very nicely spalted soft maple. I also found some highly figured ash, walnut and maple turning blanks for a turner friend of mine who I like to keep in wood.
After a trip back to the car twice to carry the wood back, we hit the big vendor arena #1. Inside the first arena I spent a long time talking with a Jess Em dealer. I recently bought their router table, I LOVE IT! It's not cheap, but the quality of the set up is such that it has improved my flat work quality and capacity … no more nightmares of my old table! I saw that they now are selling a table saw slider and I was a hair from buying it, but I will not need it till spring so I said I'd see him in March 06 at the Kitchener Waterloo Wood Show to pick it up ($549).
From there we moved along and watched a few router demo's at a variety of booths, walked past the mop and sponge cloth sales displays.
I stopped at the General booth and spoke with Peter Kennedy from General. I recently bought a new planner with his assistance, so I just wanted to say hi and thanks.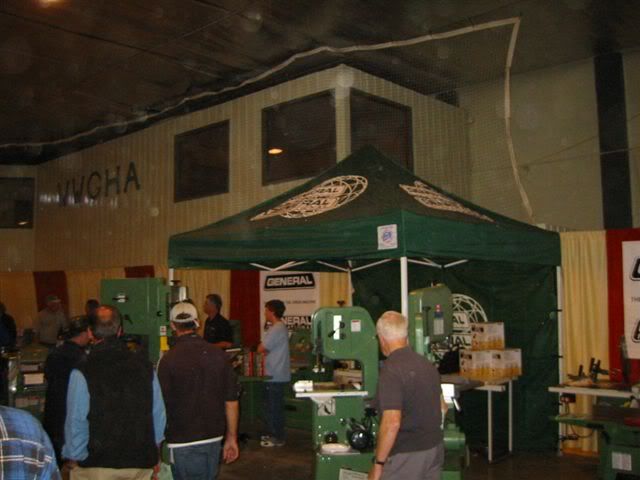 From there it was a walk around the displays till I saw one with cherry for sale. The vendor calls them self Shaker Roads and I had emailed with them some time ago. They also sell shaker box materials and offer courses. I spent some time there talking with Maurice, he showed me a few of the boxes his wife makes and I saw some details that I need to pay attention to, she's very good! They also taught a class a few weeks ago and 4 members of our club attended, they had high praise for his wife's teaching and craft skills. They sell supplies as well for shaker box making, I'll have to check them out.

After that it was time for a quick bite, and with most shows the offerings available are typically of an unhealthy choice, so it was too at this show. Most of the food vendors are local, small private chip and burger trucks and trailers, but still a smell that says…SHOW! So we each had a burger and fries and an ice tea (sweetened, although I enjoy the unsweetened to be honest).
We were to meet Lee Schierer and his wife Sue at noon near the saw mills . True to form Lee and Sue were there just as we walked up. Lee has been an internet friend for many years dating back to Badger Pond time. We stood around the outdoor band mill, we enjoyed a solid half hour standing by the band mill as the operator cut a juicy cherry log in to ribbons of cherry dreams...ah that was almost exciting to type!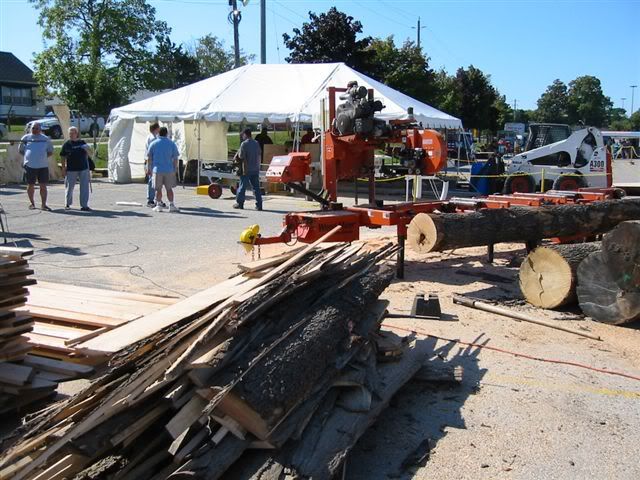 Walking around by the mills we found a vendor selling Manitoba maple Burls, this was one of them, nice wood!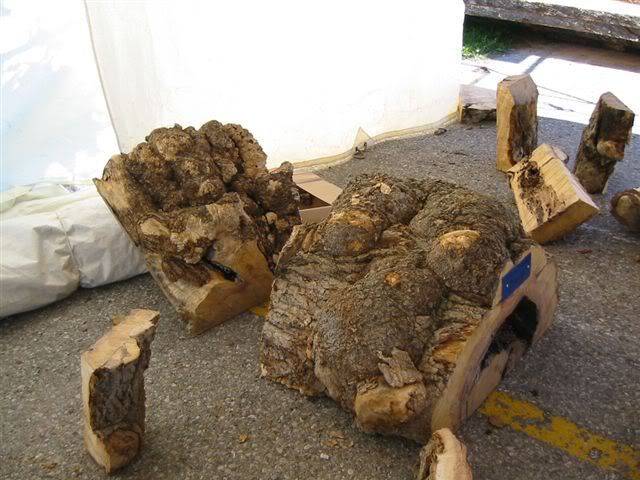 We agreed later to meet at 5PM and to go out for dinner, and off we went to explore the show and all it's trappings once more.
Pierre and I then headed to the building with the Lee Valley display...almost like seeing Mecca, I fall to my knees and bow to the shrine, now which way is Ottawa?? LOL. I bought 25 pen kits for my Peacekeepers and a new grinding stone and a set of magnifiers for my glasses (I'm getting old!). Well, the lady taking my order asked about the pen I was using and the kits I was buying and before you knew it she was holding my arm and saying "I have to touch you, you have great Karma!" That was a bit exciting and then a few more people in the booth were told I was the one who started the Peacekeepers Pen project and I was then shaking hands and listening to kind people say nice things to me, one was from a retired Canadian Forces soldier, it was a very moving experience.
I then roamed through some rows and found one of my favorite vendors, Jacques Coloumbe. Jacques runs an internet tool business, mostly a variety of turning and carving supplies from Montreal. He makes all the shows and I try to make sure I spend some money with him every year, a 1/2" skew this year was my treat. He's always got a big hand shake and a smile for me, if Dana is with me he often gives her a pen blank. Jacques told me that his internet sales are so strong now that he may drop some of the wood shows from his demanding schedule.
From there it was over to Rob Cosman and his booth. Rob is the LN sales rep for Canada. Rob and his wife have 8 children and #9 is in process as they say....his wife sometimes comes to the shows, she is wonderful. Rob can hand cut dove tails better than any one I know, better than Frank Klaus too. He cuts many tens of dove tails in a day with huge crowds around him, every one is one to die for, I have taken classes with him and can tell you he makes you better!
I bought his new DVD on drawer making and a new fret saw...we had a good conversation and I playfully heckled him from the crowd a few times to keep him honest. Rob is from New Brunswick, when I first met him he found out I went to UNB, played football there too. As luck would have it his best friend back in NB also played football at UNB...and he was the running back on the same team with me.

From there we went to look at some other displays and tools. Eventually we came upon the turning, carving and furniture display. We saw some okay work, but nothing special, usually it's better than what we saw this time, but it was fine none the less.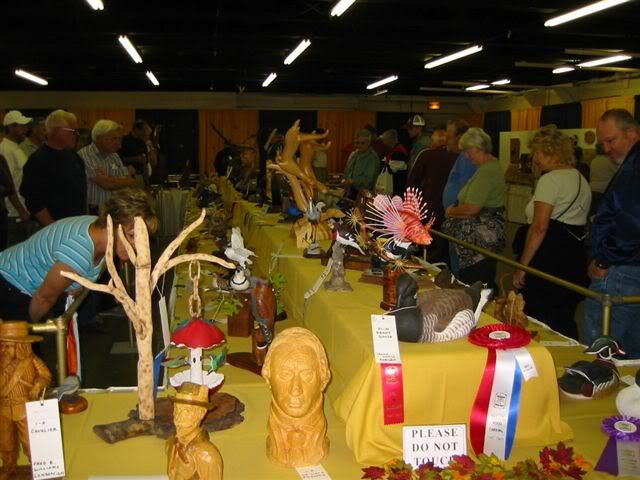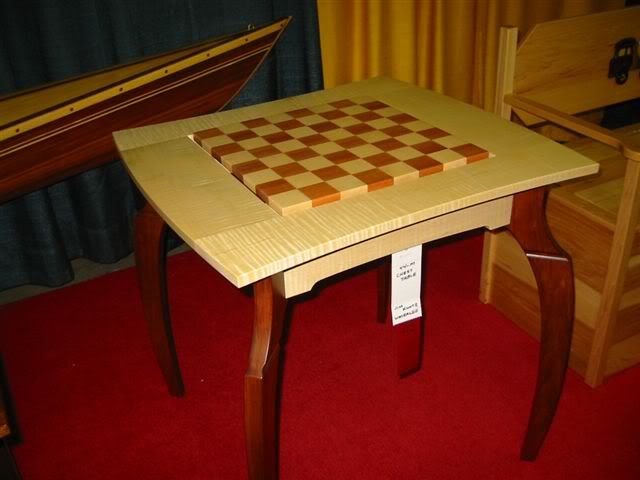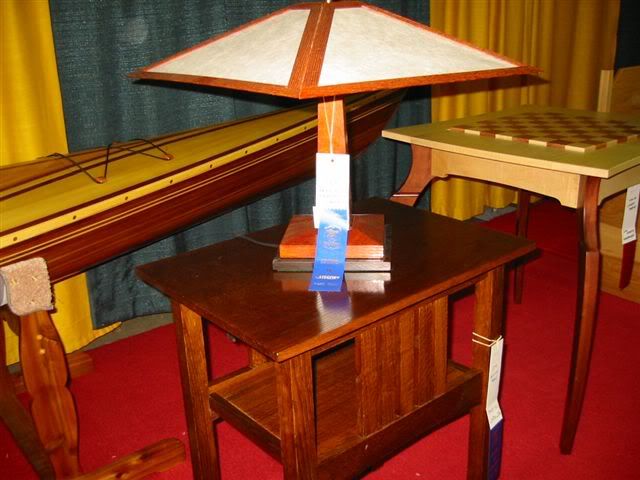 We then cruised the craft barn and looked at the things some local artisans were making and selling....it's hard to sell crafts to woodworkers, it was pretty obvious that sales were not moving what so ever at any of the booths...I felt sad for some of them.
And suddenly there was a sound from outside the building and I knew, one of the Woodstock Show's traditions was still an event to make the trip for...yes you guessed it, THE ONE MAN BAND was outside playing the Rolling Stones Classic " I Can't Get No Satisfaction.." And I got outside just in time to see a crowd gather in a large circle around him, fully equipped with drum, guitar, a variety of harmonica's and horns , straps to his arms, heels and every thing else he stomped out a few more tunes. Thanking every one who dropped some change into his case as he played ("Thank You Darlin' "). He belted out Van Morrison's "Brown Eyed Girl" ( which he claimed he'd written himself, right after he heard it on the radio), Stomping Tom Conner's "Bud the Spud From The Big Red Mud" and the "Hockey Song", "Hey Jude" and a few other classics . He keep us entertained for about 45 minutes, in the late afternoon sun, with huge smiles on faces from little children to seniors alike, he added a huge amount of happiness into what is a special day for me always.

About that time Sue and Lee found us and it was time to go. We headed out to the main street and found a small pub restaurant and enjoyed a great meal with great company. After that we were off to get home, a quiet drive home, long on reflection of a another wonderful day at my favorite wood show.
Woodstock means many things to me, it's like that special feeling of you have when you begin planning and working on a new project, the moment you know it's a special event and that it will be so, no matter the people or the weather. I usually attend alone, but having Pierre along is fun, he's usually pretty quiet.
This year there were less vendors but I still enjoyed myself, I'm ready to finish my 2005 projects and get on with 2006!
Thanks for viewing,
Take care,
Jim
Messages In This Thread