Turning Archive 2005
Subject:
Spalted Hackberry, Mesquite, etc, blanks *PIC*
Curtis Seebeck
>My wife and I have been trying to start a family for 5 years to no avail. We have now decided to adopt. I started a fundraiser for the adoption expenses and here is how you can help:
I have a number of different wood species available as pen blanks and some bowl blanks. The list includes:
Mesquite
Massaranduba (Brazilian Redwood)
Spalted Hackberry
Ossage Orange (limited)
Eastern Red Cedar
Attached is a picture of some of the blanks I turned to show what they would look like as pens with a finish applied. I am not a turner like you guys, so please bear with me on the pics! From left to right they are Massaranduba, Mesqutie, Spalted Hackberry.
Here is how the fundraiser works. Send me you address and I will send up to 20 blanks of your choice. Once you get them, evaluate them and send me whatever you would like to contribute to the adoption fund. If they don't meet your expectations, just keep them with my appologies.
If you want bowl blanks, let me know what you are looking for and I will try to get some together and send them also.
Thank you very much for your help.
Curtis Seebeck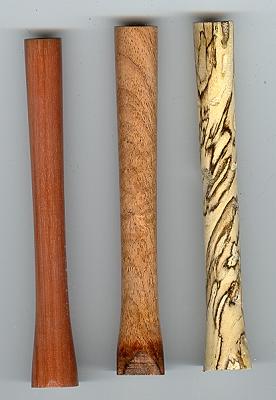 Messages In This Thread
Spalted Hackberry, Mesquite, etc, blanks *PIC*