Turning Archive 2004
Subject:
Sycamore Bowl (Feedback Welcomed)
David Eaves
>Hi there,
I managed to turn my latest bowl today, continuing the round footless base theme. Thanks to the feedback from here I hope this is an improvment on the last one. I feel it is, this is probably the best bowl I have turned so far. Of special mention is the rim after some excellent feeback from Richard Allen, who got me thinking about rims on my last bowl I went for a sloping in rim on this one.
One of the major breakthroughs on this is the use of vacuum chucking to get the spigot (tenon) off the base. Previous attempts have involved doughnut type chucks and just a live centre and sanding the pip off. Both methods working but having their disadvantages.
It was at the start of the week I realised the plastic power tool adaptor for my dust extractor fitted snugly over the outboard end of my lathe and could be lashed there without spinning round. I did an experiment with a plywood disc and some draft excluder strip to seal it. It worked a treat. On the actual job today it worked well. To start with I brought the live centre in to get it running true against my centre mark. Got the vacuum going. Turned most of it off with the live centre there for safety. Then brought it away and got the pip off. Sanded it all up and finsihed it without and diasters and was pleased how it worked and how it gave me full access to the outside.
The bowl is made from Sycamore (Probably not what you know as Sycamore in the US, this is Acer pseudoplatanus. It's sanded up to 600 grit, and finished with Tung Oil and Wax (sanding sealer applied as well). The bowl is very light and is pretty much a constant 1/4" thickness all the way down to the base. Diamter is 9" height approx 3".
Heres some shots of it, I've included quite a few to give a feel of it. They're only small files so hopefully I won't be annoying fellow modem users :o)
I'd appreciate any feedback on the form and any areas for improvement.
I'd also be interested to hear what you think of the bright oval splash of wood. In some ways I think it's a bit distacting on the outside. However, it is probably responsible for all the nice figuring so I'm not complaining.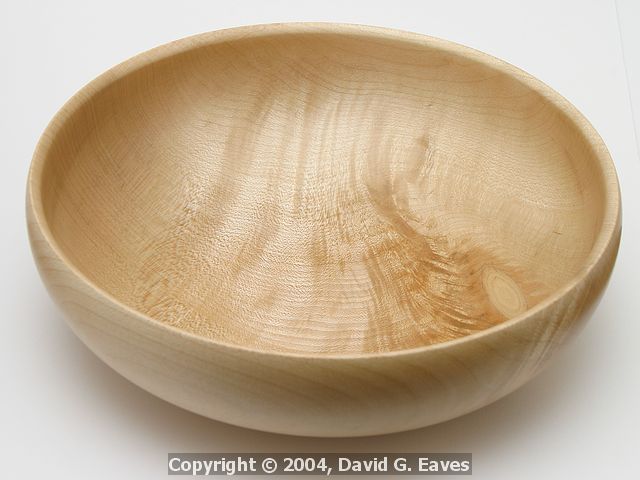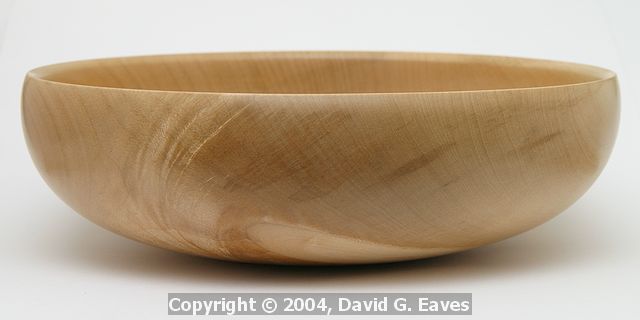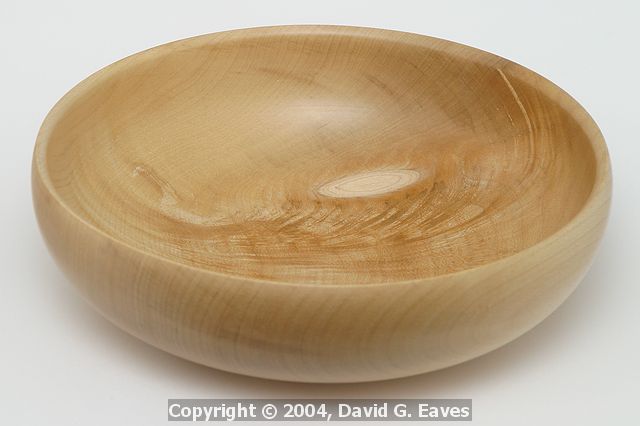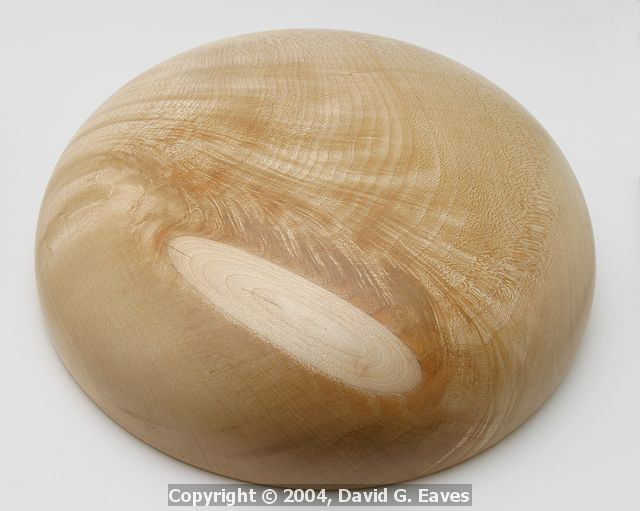 Thanks
David