Turning Archive 2008
Subject:
Wedding Goblet *PIC*
Colin Spencer
>This wedding goblet is made from a laminated piece of Bubinga and Beech.
It is 7" tall and 2¼" in diameter. The rings were made by a friend in silver as close copies to the white gold ones that my son and his fiance will be using on the day. The finish is sanding sealer and then buffed and finished with Renaissance wax.
The goblet bowl was turned first and a tenon was left on the bottom. The bowl was then cut off. I turned most of the stem, put the rings on and cut a mortice for the bowl to be reattached.
There are two items of symbolism involved in the making of the goblet.
1. It is made from the two different coloured pieces of wood to signify the joining of two people into one family through marriage. The goblet is made (as close as I could manage) half from dark and half from light wood showing that both partners are equal in marriage.
2. The interlocking silver rings signify the giving of rings in the marriage ceremony and by being interlocked on the stem of the goblet and thus irremovable that the union is forever.
Comments and critiques welcome.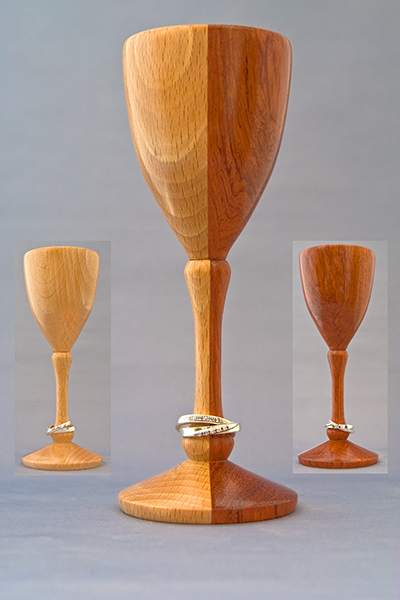 Messages In This Thread