Turning Archive 2008
Subject:
Turing tool storage and cabinet remodel *PIC*
Curtis TX
>I recently reorganized my turning area. I thought I'd share some pics. The cabinet is a dedicated turning station. I laminated the top, used full extension slides and used the Festool Domino to attach the drawers.
You will also see my revised tool storage rack.
Note behind the lathe is a custom dust port stand. It is turned from Pecan. The feet are attached with Dominos. Includes a shop made swivel that allows me to easily swing the dust port out of the way.
Curtis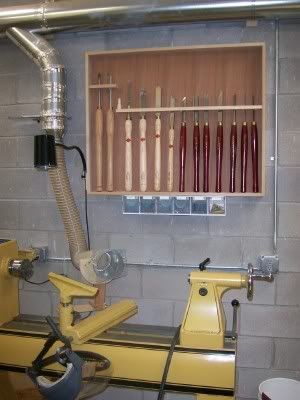 Messages In This Thread
Turing tool storage and cabinet remodel *PIC*