Turning Archive 2007
Jennifer@Indy.USA
>Well you can tell I hauled the photo box and lights out when I start posting stuff. I dread that task and only do it after I have a few things to shoot. Pardon these shots as I'm using a new larger light box that I don't like at all. The fabric is awful and I can't get the lights to work as well, but the other box was too small.
This is a 16" platter that my Sister in Law commissioned me to make for their home. She pretty much gave me free reign only telling me what room in the house it was going to go. So with that in mind I dug in. I doodled in my sketch book a bit and came up with this motif. I cut a teardrop template out of cardboard and laid out the design starting with that. Then I filled in the bare spots between those with the "medallions". The idea just kept developing and changing until it ended up like you see it here. Now that it is all done I think it sort of has an older Arts & Crafts look to it. That wasn't my intention, it just happened. I burned the design in and was sorry I used so many curly cues. Not easy to burn smoothly. I will forever be trying to perfect that skill. I was going to use a curled brand that I made for another project but the burn would have looked much thicker than the other lines burned so I didn't use it.
The inner black ring was done with black gesso. I used some texture inside the teardrops and then attempted to shade the swooshy things with the burner too. For color I used WoodBurst colors applied with cotton swabs and these tiny little swab brushes that I buy at a local Modeler's Hobby Store. I mixed the colors to what I wanted as the pack of colors I bought were all very bright, vivid colors.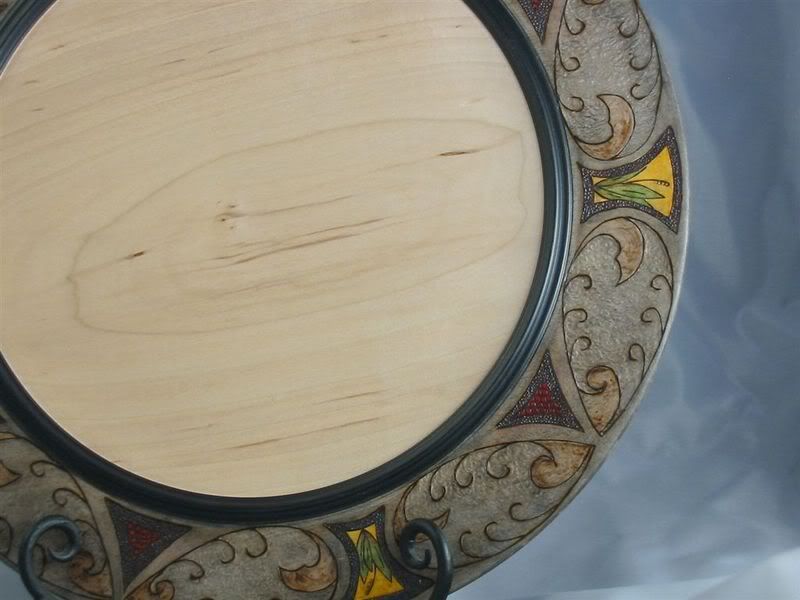 The finish is two coats of Krylon Fixatif and then about 4 coats of Deft spray lacquer, satin. Each coat of both the Fixatif and the lacquer were burnished with a piece of softened brown paper grocery bag. I used no oil on this piece so that was new for me.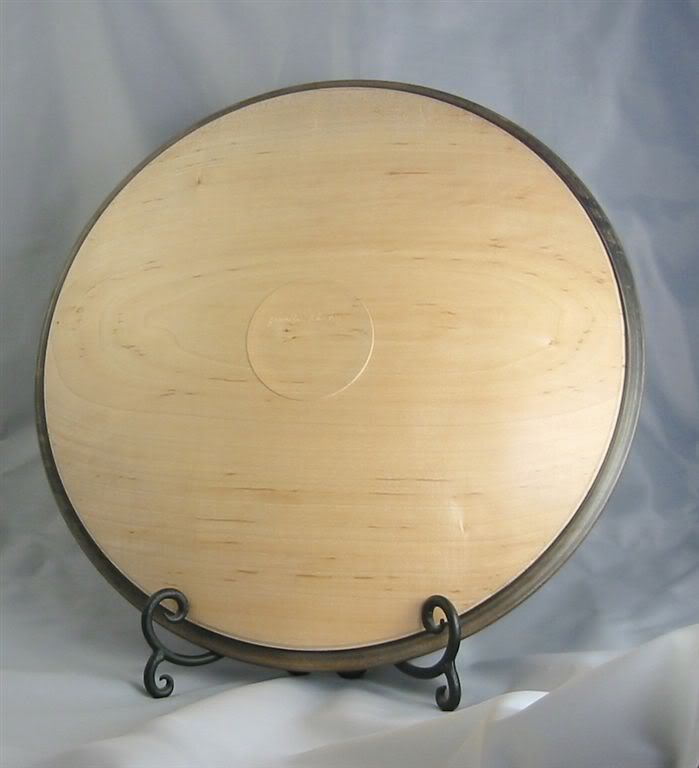 The back was left pretty plain.
It was a lot of fun to make and after delivering it this morning, I think my brother and his wife were thrilled to have it :)
I'd love to hear your feedback on this one. Thanks for taking a peek.
Jen