Turning Archive 2007
Subject:
Clay Foster Inspired Bowl
Jennifer@Indy.USA
>Hi everyone,
This is a bowl that came about from being inspired to try something new after sitting in one of Clay Foster's rotations at the OVWG Symposium a few weeks ago. I find Clay's work incredibly beautiful, yet when you break it down it's rather simple. the way he puts the elements together is what makes his pieces so rich and beautiful. He doesn't use sparkle, pizazz or refined implementation of techniques. Quite the opposite. Clays work sometimes looks as if he carved the object with his bare hands or gathered up the bowl from an ancient cavern or fire pit somewhere. Its a far cry from what as fledgling turners some of us strive for. Flawless finishes, symmetrically perfect forms and such. I've always admired Clays work and after watching his demo I realized what fun it must be to not really worry about the finish, to play around with fire and mud and wire and carve at random. So I decided to attempt to let lose and try it myself. I turned a piece of elm in a pretty basic round bottom bowl and then had at it. It really was fun to scorch the entire bowl after it was off the lathe and then wire brush all the open grain free of the bowl. I then drilled some tiny pilot holes for some copper wire to fit into. The wire was twisted and then bent into "staples" and then forced into the holes. On a few of them I threaded a brass bead that I have in my box of goodies. Then a good swipe of some tile grout and its done!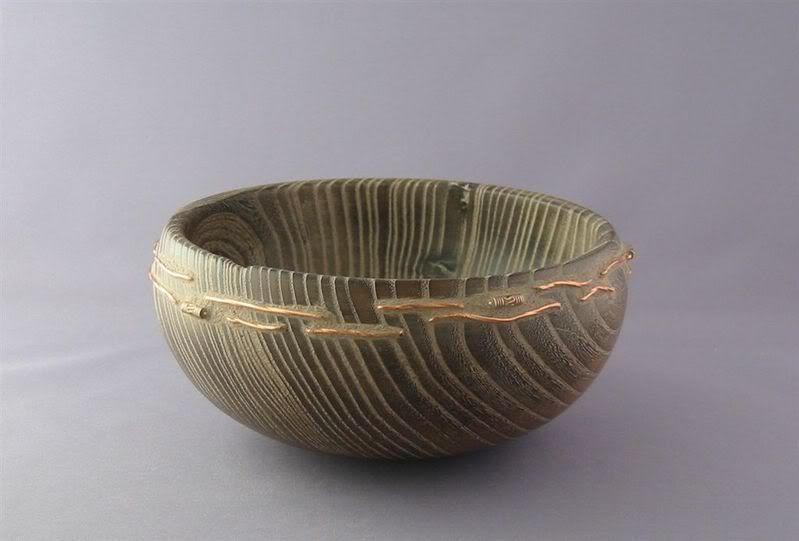 I can't tell you how nice it was to just play with this project. At first I thought it looked really rough. Like something a child might bring home from school. As it sits around the house and becomes more a part of the scenery here, the more it grows on me. It may very well look like something a kid made, and perhaps it has something to do with the relaxed feeling I had while making it. Like there were no lines to worry about wandering out of with my crayons. It really was a fun project that I think I may try some more of. Clay your demo was fantastic and set the spark in me to just relax and enjoy the process.
Jen :)