Turning Archive 2007
Subject:
Mini lathe with steroids #2
Leppikallio
>Some development has happened since last posting which some of you may remember. New stand is the latest but also supporting arm for frequency converter and "belt cover" has been added.
Stand is 6"x6" steel pipe with 1/2" wall thickness and filled with sand. It weights around 220lb. And after some turning I must say that stand works really well. Improvement compared to previous stand is huge.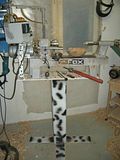 http://i191.photobucket.com/albums/z255/leppikallio/Toolmaking/new_foot.jpg