Turning Archive 2007
Subject:
Bocote and Malachite Pen
Jim Shaver - Oakville, Ontario
>Hi,
I was working on this pen a short while ago and finally took some time to make a picture of it. The pen kit is an El Grande fountain pen purchased at Lee Valley. The blank is a bocote. I turned it as a solid end pen, using a pen mandrel from William Woodwrite.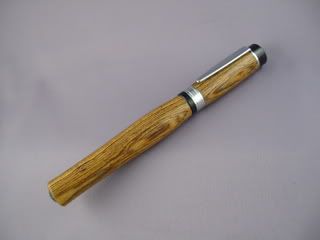 I like the string wood grain in this blank, I added a 10 mm malachite cabochon for a finished detail

The finish is sanding to 400 then Mylands friction polish then microcrystalline wax for a final polish.

I have seen a few other pen turners try this and I thought I'd give it a try.
All critiques are welcomed
Take care,
Jim
Messages In This Thread