Turning Archive 2007
Leppikallio
>All that recent talk about environmental problems and of course Ozzy Ozbournes piano ballad "Dreamer" got me thinking. This "Hobo" is one of the pieces this thinking has produced (probably something else will follow too).
As has been said many times mother nature needs us. It is our responsibility to guide her to safe way as she can't guide us anymore.
Some explanation may be needed. Base is derived from symbol of Earth (cross inside circle) and also obviously it symbolizes crossroads or choice to be made.
She is about 15" high. Base is african blackwood, body and lid of basket are from "goldfield burl" and basket itself is masur birch.
All comments and critiques are welcome. I also would love to hear what, if any, thoughts this may raise.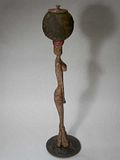 Messages In This Thread