Turning Archive 2007
Subject:
Ernst "palenose" Vulture
Leppikallio
>When I last time was in Morowia I found and took along with me some eggs. I had no idea what was they but they did look fun somehow. Since I arrived I have been quite tired and busy which is never good combination. This time I forgot those eggs in my bag. Needless to say that I was quite scared when I heard little "BeepBeep" couple of days ago. One tiny moment I was sure that I was crazy. But not this time either, it was this guy which had came from one the eggs.
I decided to call him Ernest, he don't like about that nickname (palenose) too much...
Unfortunately I have to let this little guy go before I even know him. He is going to fly to new world soon. In fact he should be on his way already but he has had little flu. As you can imagine he can't fly if he is sneezing all the time. But he is better already and I hope he is able to start his trip tomorrow morning I hope his new family will love and take care about him.
Oh, he is only about 4" high currently but I'm sure he will grow fast.
Ernst is blackwood, brown mallee and pink ivory. Eyes are acrylic gel. This is my piece for the excange and it is not intented as a punishment ;-) I had thought that I'll post it last friday but again Mr. Murphy had something else in his mind and Ernest is still waiting to be shipped.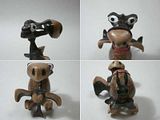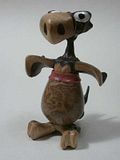 Messages In This Thread
Ernst "palenose" Vulture