Turning Archive 2007
Subject:
Morowian Dixie Chick
Leppikallio
>I have been travelling again, just got back from Morowia. What a wonderful trip. I saw many new and fun species. Also I saw this unknown bird specimen which I'll call Morowian Dixie Chick until I can figure out what it is.
I hadn't planned to take this tweety with me but it was somewhat cute and it wouldn't let us leave alone so basically I didn't have any choice. While travelling back me and my cat were sleeping. I just had filled cat's cups, some water and of course some food. After a while I heard some strange noices and woke up. Obviously I hadn't closed that cat's dry food bag properly and that moron bird had emptied that bag. Needless to say it had also drunk all water from cat's cup.
Next thing I realized was cat waking and looking into its food cup which was empty of course. Next thing it saw was the bird which looked like this, going to explode in any moment. Oh man I was angry. Hungry cat which is laughing so much it can't even breath, bird which can only BEEP because it is almost going to explode and always so charming, now extremely tired, me.
This chick is about 9" diameter, birch, blackwood, holly and some burl cap. Topped with some horse hair or something like that (I certainly hope it is from horse and not from a porcupine for example :)
Except that I should sleep more what do you think? All comments and critique is welcome.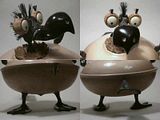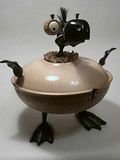 Messages In This Thread
Morowian Dixie Chick