Turning Archive 2006
Subject:
A Visit with Wally and Jane
Jim Shaver Oakville, Ont.
>Hi,
This weekend I traveled to Phoenix for work. I had made arrangements with Wally to come down on Sunday to Green Valley to visit with he and his wife Jane.
Sunday was a very quiet and beautiful morning, driving south on I-10 to Tucson then onto I-19 till I found my way to their lovely home. All the way down I was enjoying the many incredible vistas and the changing desert, I was surprised how lush the area became as I got closer to their house.

I was greeted at the door by Wally, a very happy smile and a firm hand shake and I was invited in to visit. We sat in the living room for some time, great conversation that never slowed down, little of it to actually do with wood.
I was very pleased to see that both Wally and Jane are in good health. We spoke about everything from sports and family to live and so on, I felt totally at home and in a place that made me happy to be.
Jane made us a home made lunch and it was fun to see the two of them together, they have to be the cutest couple I think I have ever met.
We did make it out to the shop later and Wally showed me around his studio, itís perfect and totally suits him. He showed me his left handed lathe and we talked tools for a short while.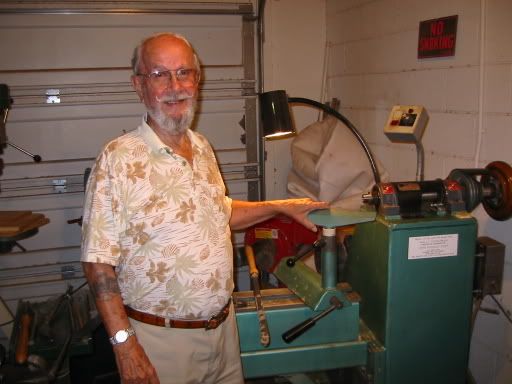 One turning detail that we all know Wally is famous for are his beaded hollow forms. Much has been made of and speculation hinted at as to how and what tool Wally uses. Itís been one of the few things that Wally is private about but he allowed me to make this picture of the tool so you could all see it!
I learnt a great deal about Wally and Jane on Sunday, we laughed and shared a great deal of stories, it was a day when you finally meet some one you have always wanted to meet and you have such a great time you feel like you just do not want to leave.
Wally and Jane have some great news this coming month as well, Wally will be walking one of granddaughters down the isle at her wedding. I am sure you will look very handsome in a Tux!
One world issue that really concerns Wally is global warming. At first I thought that was ironic with them living in Arizona, but Jane cleared up the mystery for me. It turns out that Wallyís concern is based on his soft spot for chocolate and with global warming he is concerned that it will all melt!
With the great sense of humor I could see that they both are enjoying life and each other. It was my pleasure to meet you both and to enjoy sharing some special time with you. I look forward to seeing you both again.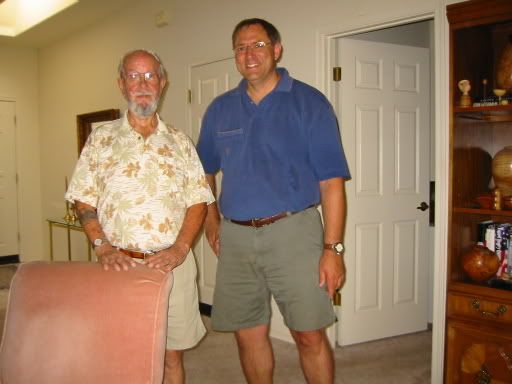 Take care,
Jim