Turning Archive 2006
Subject:
A "Duet" for AAW
Jennifer@Indy.USA
>Hi Everybody,
Here is a "duet" that Jim Shaver and I put together for the AAW Banquet Auction. I asked Jim if he'd like to do a piece with me that would include one of his pens. My idea was for me to turn a box for one of his pens to sit in. I was happy that he said yes. I'd never done a collaboration before so I was a bit nervous about it. It really puts pressure on you to hold up your end of the bargain. Well, I sketched out a few ideas and kind of came up with what you see here. The only thing that's different is the fact that I had intended the box to sit on a foot that was angled, so as to present the pen towards you when the lid is opened...but when I tried to turn the foot off center....it got goofy and I decided to forget that idea and proceed to Plan-B, leaving the bottom domed since I had cut what foot that I had....off. So I made the base that allows the box to pivot in whatever position the owner wishes. I think it works a little better than Plan-A. The box was turned from cherry, then a bit of burning for texture and then the lid was covered with black gesso. The inside is textured. The foot has the same treatment as the lid. The "knob" is turned from ebony with an added BB in the center. When I carved out the place for the pen, I made it as long as possible and then gave Jim the dimensions of the slot to the 1/16th of an inch. I was hoping that one of his pens would be short enough to fit! We were both very relieved when he arrived prior to the symposium that it fit perfectly. There was no time to turn another one so it was nice to see it snug as a bug in its new home. Jim's pen was beautiful as usual, and had all the sparkle that we have come to know his pens to have.
As I sometimes do with my finished work....I had some reservations about how my part came together. I just wasn't 100% satisfied with the box and how it turned out. During the auction John Hill (the auctioneer) really raved about this collaboration piece when it came up, so we both felt good about that.
Thanks Jim for saying yes to my invite! It really was fun!
Jen
….and now Jim will show you some pictures…..
******************************
Well how often do I have the chance to work collectively on a "Duet"
with a good friend like Jennifer. When she mentioned the idea to me as a donation for the AAW auction, I was really happy to say sure! The thought of the two items coming together as one really had a great appeal to me. Jennifer did not tell me what her turning looked like, she only gave me the concept of the finished work and a size that the pen could not exceed, so this in a way was a challenge in and of its self.
I turned one of my solid ended fountain pens and chose a golden coloured stabilized box elder burl blank.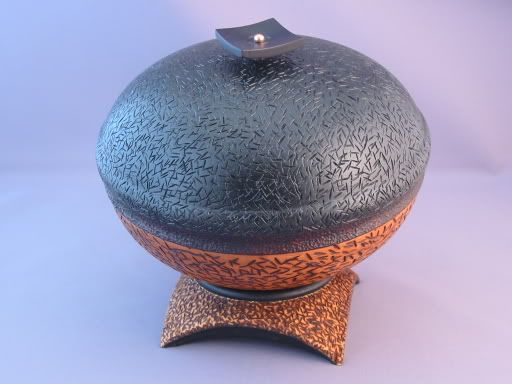 The hardware was from Craft Supply, a platinum Junior Statesman fountain pen. The finish was a wet sanded process to 12,000 micromesh then polished.
So it was with great relief that when I finally saw Jennifer's turning and we put the two together that it fit so nicely.
This is the base of the box, a foot that allowed the turned box to be positioned in any direction.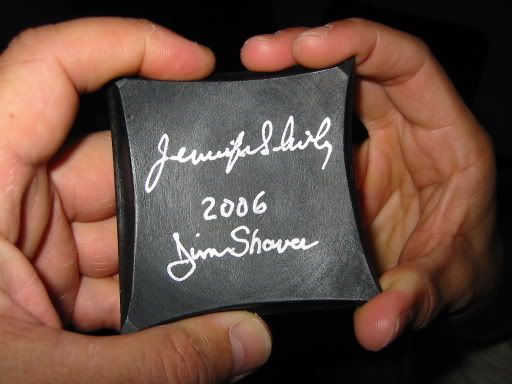 What a fun project it was and an ever better feeling to see it raise funds at the AAW auction for the benefit of others to learn the art and craft of turning. Thanks for looking!
Take care,
Jim