Turning Archive 2006
Subject:
Building On The Basic's Class at Lee Valley
Jim Shaver - Oakville, Ontario
>Hi,
Yesterday I gave my first pen class of Building on the Basics at the Lee Valley store in Burlington Ontario. They sold out the class and had an extra on the waiting list so we were a class of seven students.
I made up a course to address an area of pen making I thought was important, how to get from turning basic pens to enjoying the feeling of improving the quality of your work and experiencing new materials and design at the same time. I approached the folks at the local Lee Valley store and they said letís do it!
I have given demonstrations to several AAW turning clubs now, an audience of people watching for 2 hours is a fun experience, sharing ideas and talking about pens, but teaching for 8 hours with hands on details with each student is very different. I respected that there would be very many skill levels in the room with many different requirements for learningÖ.Iíll tell you something, this kind of experience is excellent, it reinforces what you know and teaches you many new things as well, moving from student to student and keeping the class moving along towards itís goalsÖand watching the clock!!
I was delighted that the class took the challenge of working hard all day (8hours) in turning two pens. One pen was to focus on the detail and quality they should pay attention to on turning and finishing a pen while the second pen was about creating their own unique pen designs.
For our first pen we worked on a capped El Grande with an acrylic pen body in the first half of the class. For all of the class they had never tried an acrylic before so it was a good opportunity to work with the students to show them how to get a well turned pen body out of a new material for them. Many of the students were novices with some who had some experience for more than a few years. I had to say from one student who had only ever turned one pen to the others with experience it was a positive class through out.

In the later part of the class we focused on making a custom pen not constrained by hardware, so I selected slim lines for the class and let them create their own designs. I was totally impressed by the out come of that exercise. All of the turners made excellent slim lines of one of kind, no centre bands and in some cases no clips. The materials for the second pen were stabilized maple burls, also new for all of the class.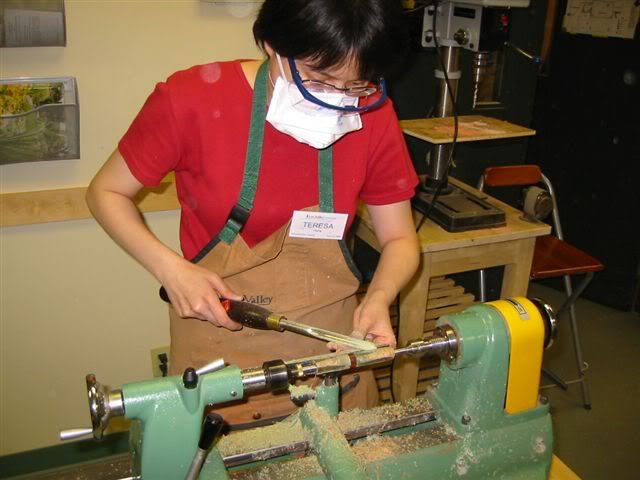 The class used the Ablaron- Micromesh and polishing methods I like to use, it all worked out great.
In the last part of the class I used a pin chuck and turned a solid end Junior Gentlemenís pen.
In the end the class was a full hard day, I learnt some new details myself about pen making and I enjoyed the students I had in my class. A totally positive experience.
Some of the class results.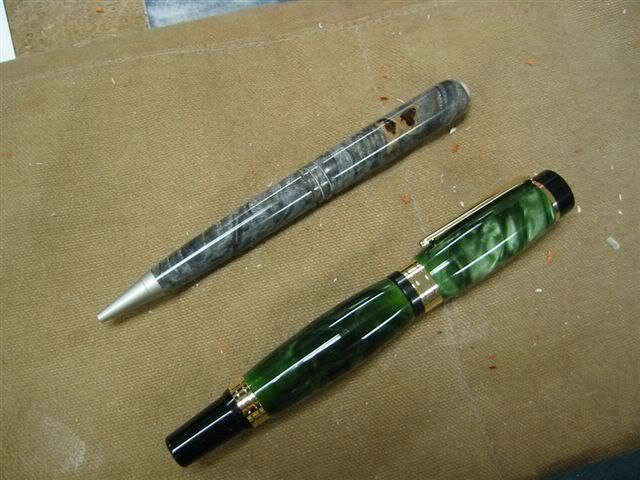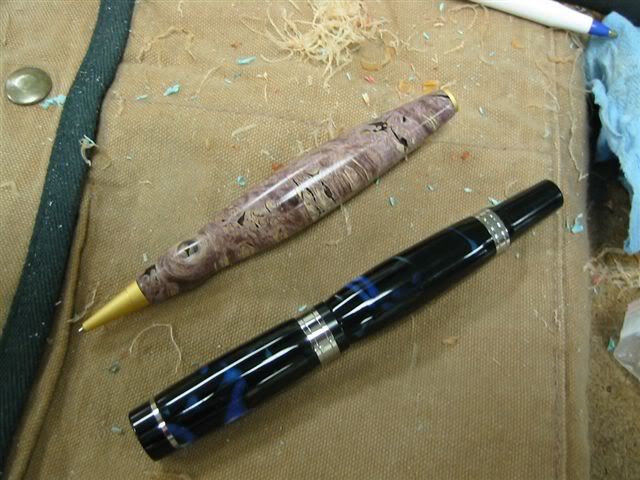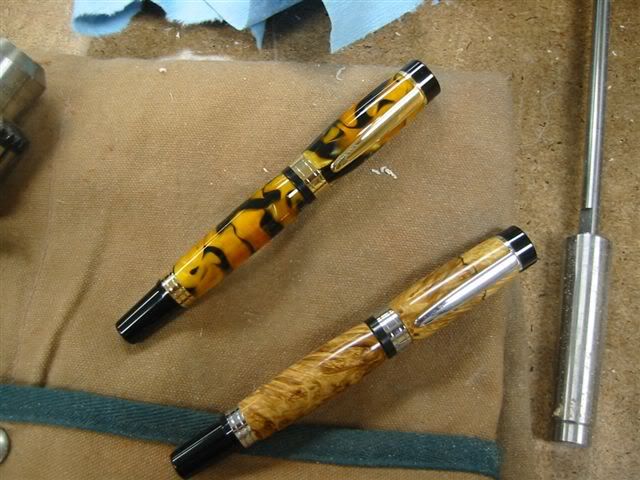 Thanks to Lee Valley in Burlington and Sylvester at the store for taking great care of our class with super support!
Again it was a great class and a great experience, I would do this again in a heart beat!
Thanks for viewing,
Take care,
Jim
Messages In This Thread
Building On The Basic's Class at Lee Valley