Turning Archive 2006
Subject:
What a Save!!, pics
Jim Shaver - Oakville, Ontario
>Hello,
You know some times as a goalie (hockey) you can see a shot coming and you can prepare for it, other times you have to anticipate when and where it is and hope your reflexes donít let you down, yesterday in the mail I was totally taken by the surprise with the puck that came my way.
I received a wonderful turning in the mail yesterday from Carole Valentine. She has called it a Hockey Puck, or was that David P who called it that?
It turns out that while at the Gathering in Georgia Carole had brought along many of her treasures. This one was in the collection and David referred to it as a hockey puck. Well I guess my name came up as Carole has told me and she felt that it needed to be in my Hall of Fame.
The wood is actually some spalted maple that Carole mentioned to me was from Bill Grumbine as part of Billís gift to Caroleís Valentineís Day celebrations. The collar is a lovely black wood.
I love how that day and those gifts to Carole have brought so many new experiences for many of us, not Carole alone.

So in true fashion I decided that my goalie trapper was a good setting to show off this wonder!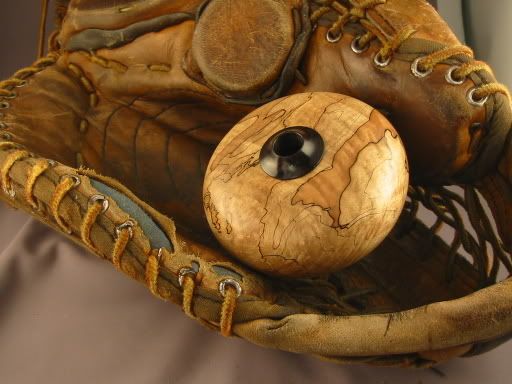 Carole, you have no idea how much I enjoy this, itís a pleasure to have and receive from youÖyou are very kind, and youíve got a great shot.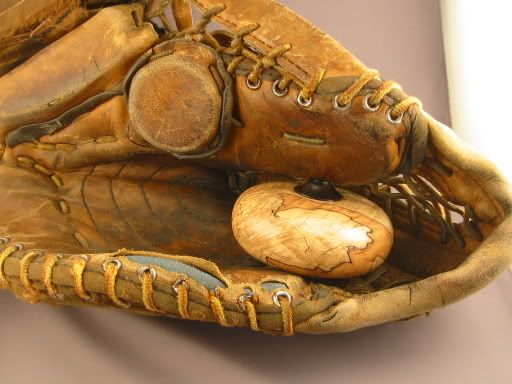 Carole, this was a real surprise for me, Iím sure this one is a real save!!
Thank You Carole!
Thanks for viewing,
Take care,
Jim
Messages In This Thread