Turning Archive 2006
Subject:
Full Circle, Pens For Canadian Peacekeepers Update *LINK*
Jim Shaver - Oakville, Ontario
>Hello,
This is a story about something coming full circle. As many of you know I have a project called Pens for Canadian Peacekeepers. This has created many interesting connections and stories over the past year. To date 186 pens have been sent overseas, many from kind and supportive contributors from Canada and the US.
Some of the last pens sent overseas contain a special story coming full circle. I posted a story last year some of you will remember that my neighbour told me his father had some walnut to give me to make pens with for this cause. He told me his dad had been given the walnut by one of his neighbours some 20 years ago. It turns out this neighbour had worked during the second world war in a factory here in Toronto making rifles and the walnut was used for the gun stalk. At the end of the war much of the wood materials made there ways into homes with some of the workers.
This man who worked in this factory was one who also saved some of this wood for his own use. Now this wood is mine and over the past few months I cut the small boards into 150 pen blanks.
I turned two pens right away from the stock last fall, one for my neighbours dad Mr. Pilmoor and one for the widow of his friend who gave him the wood 20 years ago.
I turned my first pens from this stock a week or so ago, these pens made from wood intended for guns now are going to go to the Canadian Armed Forces as pensÖ..full circle.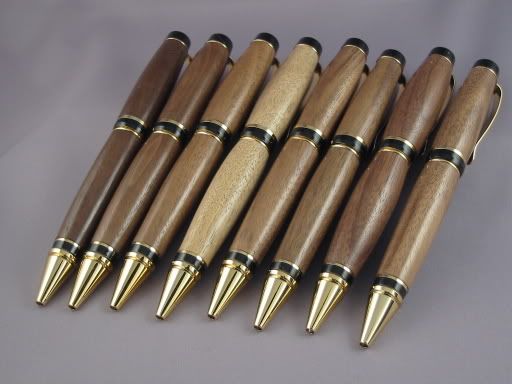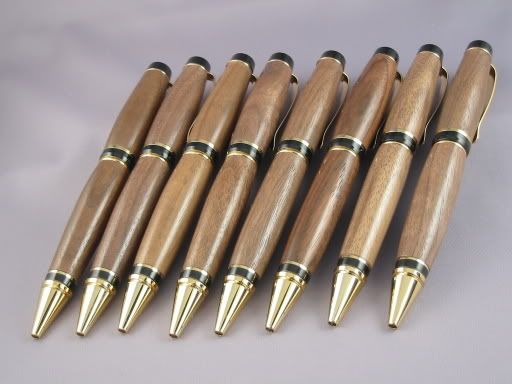 This project has had many positive stories, this is one of them. Mr. Pilmoor sadly passed away last fall a few months after he donated the wood but he was pleased to know he had passed this meaningful wood forward to deserving men and women who do unselfish duty in this troublesome world.

I would like to thank you here for the support I have received on this site from the many kind supporters.
I see this project growing going into itís second year, I have no plan to end this at all, itís so rewarding for everyone!
Please see my link below if you are interested in reading some of the letters that have been sent back. Also if you are interested in participating in this project please send me a note.
Thanks for viewing,
Take care,
Jim
Messages In This Thread
Full Circle, Pens For Canadian Peacekeepers Update *LINK*