Turning Archive 2006
Subject:
My First Turning Club Demonstration
Jim Shaver - Oakville, Ontario
>This past Thursday night I gave my first Turning Club presentation . Being a flat wood furniture guy this was a new thing for me, I have given club talks on furniture before but never to a group of turners.
My presentation as you guessed it was about pen making (really??). I gave a short presentation followed by a demonstration supporting the topics from my over view (about 1 hours 45 minutes total).
My presentation was not to teach them how to perform the basics of making a pen but rather how to build on what they know already. When I asked for a show of hands from the club of how many make or made pens about 70% of the hands went up.
I focused on some issues around materials, mechanics, tools and kits. I took time though to talk about the balance of mechanics/engineering and design in making pens (there was a great article recently in FWW by Michael Fortune on design, it applies to any creative art including woodturning, really worth the read) . I spoke about what are the inputs to a pen that control and define design and what do I pay attention to in considering design in a pen.
I presented images of pens of my own and from those of some other pen turners who I requested images from to demonstrate how design and hardware need to compliment each other, including choices of materials to support the design and the constraints of hardware.
I then spoke about and gave images of pens that have gone "Beyond the Limits" of hardware, where the makers have found ways to present their designs and forms to a new vision.
To support these two thoughts on pen making I turned two pens, one to compliment the concept of following a kit and allowing "design and mechanics" to be the focus, the other to touch on going "beyond the limits".
This is the first pen I turned.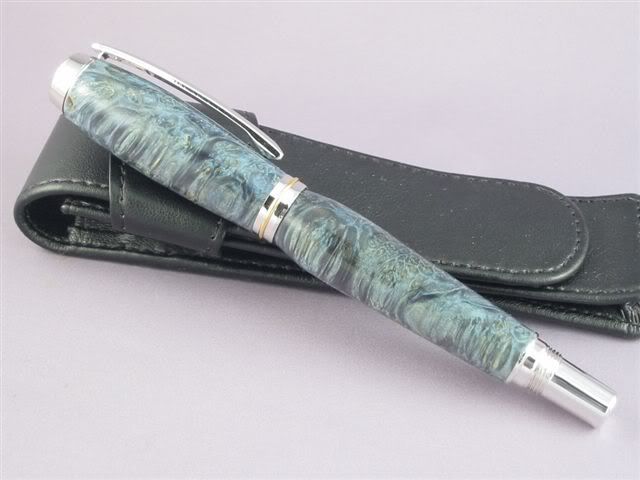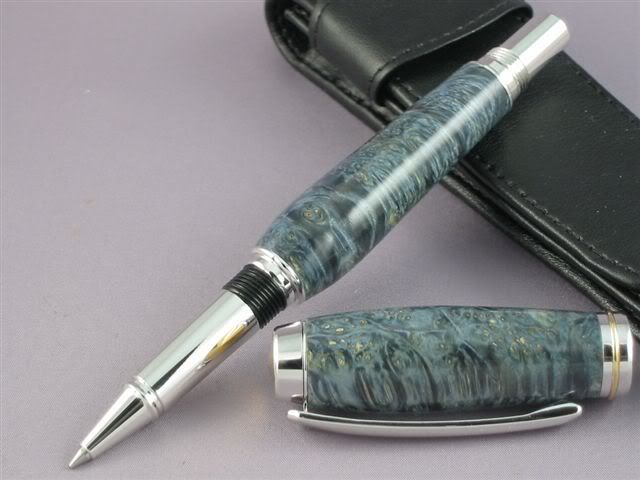 .
This is a capped pen kit turned with a stabilized wood. This gave me the opportunity to demonstrate my technique, talk about the mechanics and quality issues related to turning a stabilized wood. While I know there are many ways to design a pen I demonstrated my process (I am not an expert by any means). I also spent some time talking about the design of the form to the pen hardware and then showing how I finish my materials,….it worked…phew!!!
.
My second pen was to demonstrate how to get beyond the limits of a pen kit. To demonstrate this I chose to turn a solid ended pen using a pin chuck. While I know I am not far down this path (just a few pens yet) and have much to improve on and discover I felt that this would give some of the members some ideas on how they could get past the paradigm of the pen being controlled by the hardware.
This is the pen I turned, it is a Gentlemen's pen with a green and gold celluloid blank. I had a bit of a downer when I realized as I turned it I could see faintly the edge of the tube ghosting from inside…hey, but that's a feature Right!!
I used the same finishing process on both pens, my moto: Keep It Simple and Easy..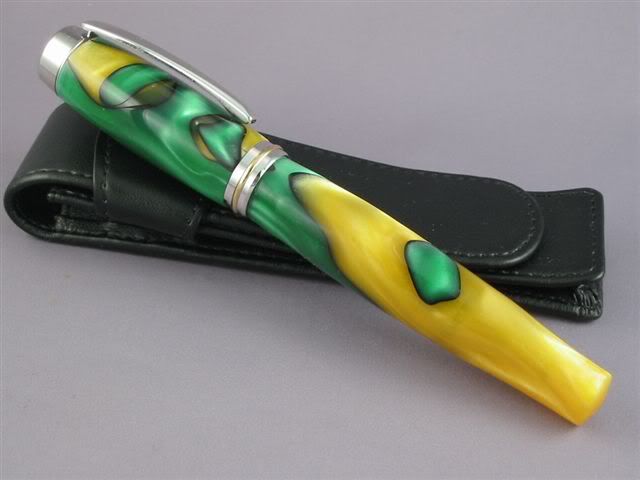 Also to support the presentation I brought along and passed around examples of my shop tools, jigs and materials, I think that seeing these up front helped many of the club members.
I also brought two trays of pens with me, one tray to show some of the mistakes (including my first ever pen) I have made and it helped to open up conversation. I also brought along a second tray, showing a variety of pen kits and materials so they could envision what some combinations look like.
I had submitted an application to the AAW to present something like this in Louisville (I was not accepted, but that's okay), but I now know that after having done this club presentation it is important to get out and present and refine your work and practice your presentation.
The whole evening was a very positive experience for me. It felt natural for me to present my thoughts and information. I had worked on my agenda and timing before hand and it was a big benefit, I stayed on topic and enjoyed the "talk" back and forth across the lathe while I turned.
The best part of the evening though came through feedback, I heard the comments made during and after the demonstration that people were able to learn from what I presented and were going to use some of the ideas.
Sharing information makes us all better woodworkers, I learnt a great deal as well….people offered me comments on their processes and I know I picked up a few ideas through the evening.
I had fun doing the demonstration and would encourage you to do so as well, if you have something you feel you would like to share get out in front of your club and have some fun telling people about what you enjoy.
Thanks for viewing,
Take care,
Jim