Hand Tools Archive 2007
Subject:
Re: Need drawknife advice
Derek Cohen (in Perth, Australia)
>Hi Ken
I have not used Jatoba before, but Mike Wenzloff tells me it is a lot like Jarrah.
My immediate recommendation is that you do not consider using a drawknife, especially if you are not used to using one. Rough out the work on a bandsaw instead, then use a spokeshave to shape it to specification.
I am in the process of building a pair of end tables. The body is built of Jarrah (and the top will be Tasmanian Oak with inlay), with legs that must be shaped to curve in two directions. The work here is much less demanding than shaping cabriolet legs. For the latter I would also be using rasps, files and card scrapers.
This is a WIP picture (hope you can make it out). There will be a third legf in the centre.
I am using a few different spokeshaves, which I mention here so that you can see a few choices. (Part of this will be written up as a review of the HNT Gordon flat- and round bottomed spokeshaves).
A longstanding favourite of mine is the Stanley #53, which has an adjustable mouth. This is a great alrounder. I bought this one cheaply on eBay. This is a must-have spokeshave in my book.
Another very useful spokeshave is the low angle Veritas, which is capable of switching between tight curves and flats. It is tighter in the curve than the Stanley but requires more practice to master.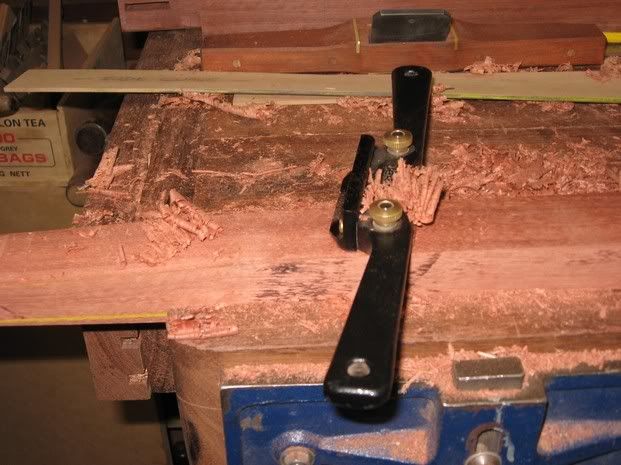 Don't even think about a round bottomed spokeshave, such as the Stanley #51 - these are nearly impossible to master quickly. They will produce considerable chatter and frustrate you to death!
The (high angle) HNT Gordons are simply superb in taming this Jarrah. They are the only spokeshave I have used that can plane against the grain without tearout. More at another time.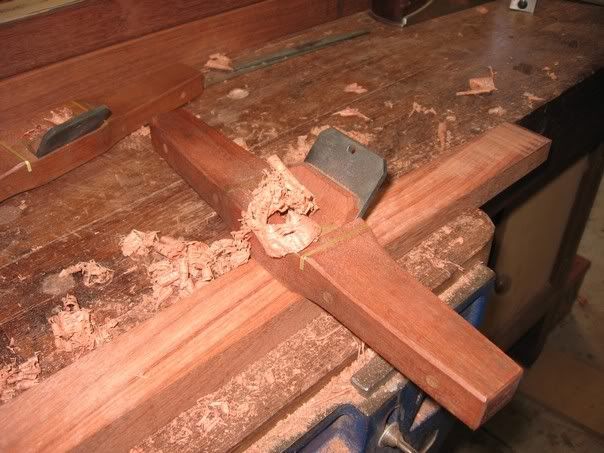 Regards from Perth
Derek
© 1998 - 2012 by Ellis Walentine. All rights reserved.
No parts of this web site may be reproduced in any form or by
any means without the written permission of the publisher.

WOODCENTRAL, P.O. BOX 493, SPRINGTOWN, PA 18081