Hand Tools Archive
Subject:
Some progress on my bookcase
Joe in a Cleveland suburb
I was able to dovetail the sides to the top this weekend. Did one side on Saturday, then the other late today.
The DT's are not perfect. It's been a while since I've done any. A couple gaps are a little bigger than I would like, but they are functional and will be mostly covered anyway. They'll look fine once glued up.
The bottom and two shelves are supposed to be set into sliding DT's. Derek and Bill's recent builds and posts have given me some ideas. I may try and do it by hand. I don't know, have to think about it.
My chisels held up really well chopping out the DT waste. My primary bevels on these are 25 degrees. I added a secondary bevel of a couple degrees and stuck them into the buffer. I had white polish compound on hand so that's what I used. Shaved plenty of hair off my arms so I guess they were sharp enough. They chopped out the cherry without any problem and stayed pretty sharp.
I know the unicorn article says a primary of 20, but I don't have sandpaper on hand to change it. I have a slow speed grinder but I've never used it to grind a new bevel angle and didn't really want to ruin my chisels this weekend trying it. Maybe next time.
I had a hard time marking the tails on the pin board because of the height. I couldn't really secure it well. I managed though. I also used the tape trick which I always do. Helps a lot I think. Probably unnecessary for those of you who do a lot of DT's.
Anyway, here are a couple cell phone pics. Thanks for looking.
#1. Most of the waste was removed with a coping saw.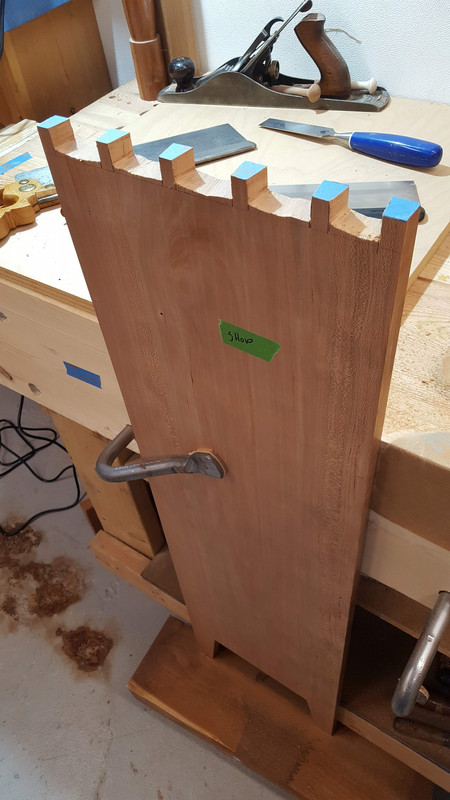 #2. Banged together. Looks ok.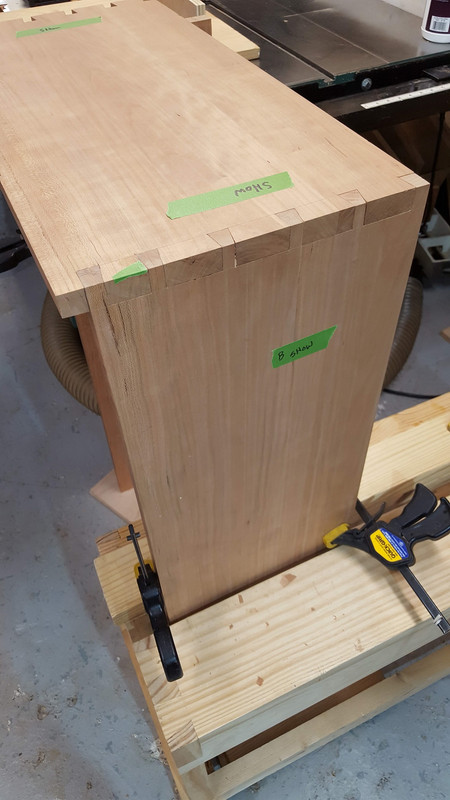 #3. This isn't right off the saw. I used pencil to see where things were too tight and shaved tiny amounts away until it went together without too much force.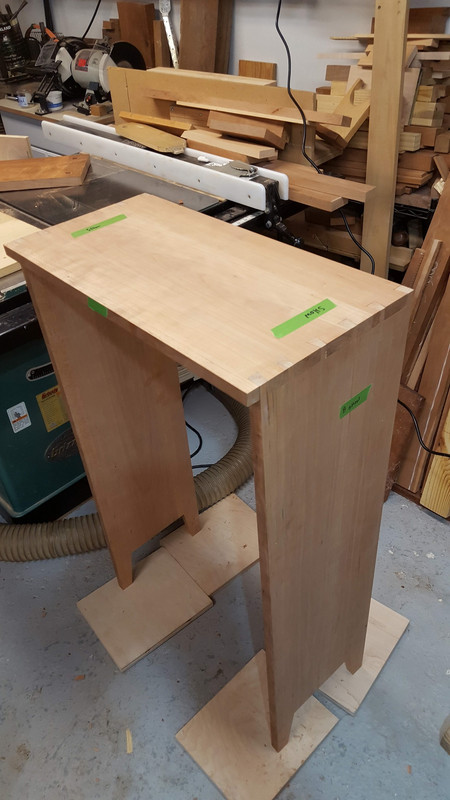 #4