Hand Tools Archive
Subject:
Light vs Heavy planes
Derek Cohen (in Perth, Australia)
There has been some controversy over many years as to the part played by mass in a plane. Some argue that it improves planing and others that it is irrelevant. Higher mass is typically a feature of premium, especially custom planes - among vintage planes, names such as Spier and Norris come to the fore, while Brese, Sauer and Steiner, Holtey, Daed, are among the modern planemakers. Lower mass is found in woodies, such as HNT Gordon, and metal planes such as Stanley. Modern planes, such as Lie Nielsen and Veritas fall into the middle ground.
The heavier planes were considered de rigueur about 15 years ago. Many of these planes were single iron and high mass, thick irons and a tight mouth were believed to be necessary for performance planing. Generally they fell out of favour, and this was partly as high cutting angles on bevel up planes gained momentum, and then this was accelerated when the close up chipbreaker returned to the equation.
My high mass planes have sat on the shelf for many years as I found a preference for lighter, more nimble planes which require less physical effort to move around. In smoothers, I like small planes, such as #3 size, and have a few that get rotated, such as a Stanley #3, LN #3, and a Veritas Custom #4 (come on Rob, where's the #3?). I also have a wonderful high angle woody by HNT Gordon.
In recent months, spurred by curiosity, I have used a Marcou BU smoother and a LN #4 1/2 Anniversary.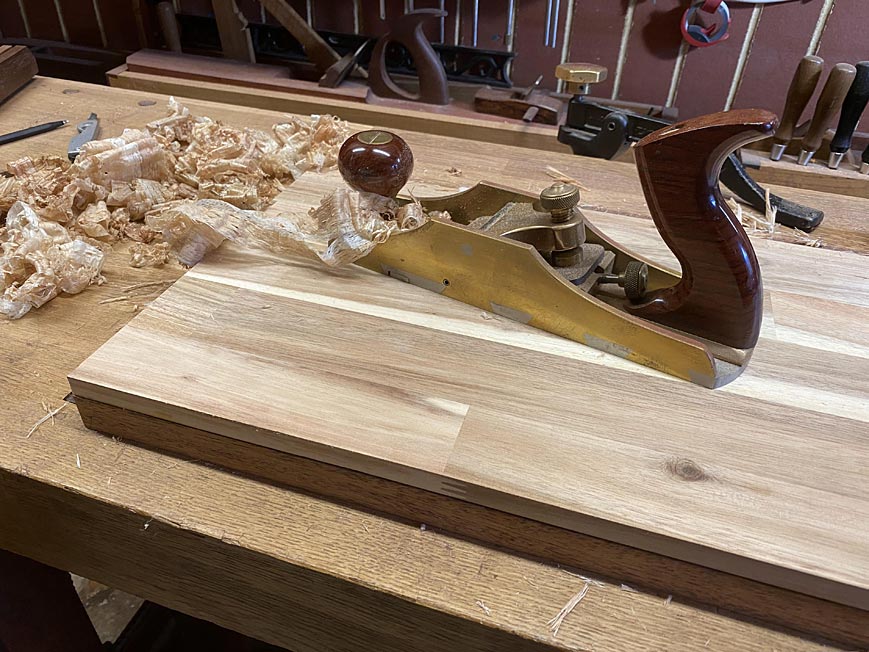 Note that the LN is planing into the grain of interlocked Jarrah ...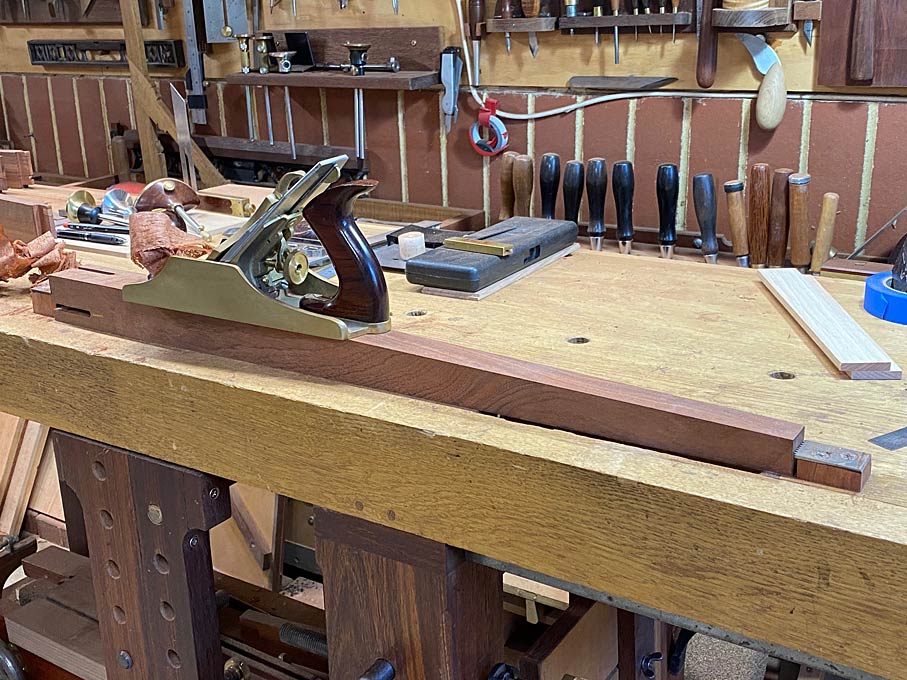 What was this like?
Well, firstly it brought a smile to my face. Planing was effortless. Push the monster forward, and it peeled off a shaving and left a glowing surface behind. "Monster" is the appropriate term since these planes are not just large physically, but they feel large .. and there is the rub. They disconnect one from the wood. It is a little like pushing a board over a power jointer (although the other way around). There is little that is delicate about this experience so, for those who have a yen for the Jim Krenov spirit, these planes are not for you.
But they perform or, rather, I believe that the extra mass makes performance easier to achieve, which is likely to suit a lesser experienced person.
Interestingly, many years ago I described the Marcou as the best performing smoother I had used. This is a bevel up plane, which I set up with a 60 degree cutting angle. I wrote a review years and years ago about this plane, and my esteem for it has not altered. One of the planes it was compared with was a LN #4 1/2. That did quite well .. but that was pre-chipbreaker days. The LN Anniversary, used here, has a lot more mass than the standard LN #4 1/2. It came with a 50 degree frog, which I have replaced with a 45 degree from (after an unhappy and brief time with the 55 degree frog .. can one say immovable tank?). Closing down the chipbreaker is a revelation with this plane. It could go into reversing grain where the Marcou could not. Simple a powerhouse in every way.
High mass? Definitely not for someone planing all day and every day. But otherwise .. yes .. it does add up to more in a number of ways.
Regards from Perth
Derek