Hand Tools Archive
Subject:
Making Burger Rings ...
Derek Cohen (in Perth, Australia)
Did you make that flashy saw, too?
Jim, of course ... everything I do is done with flash!
I built this saw about 10 years ago, but I really cannot take credit for the important part, the plate. Essentially, I made the handle .. but what a handle!!
The plate was made by Mike Wenzloff. I had a couple of his saws, which are among my most prized tools. Mike was an old friend of mine from way back.
The 11" long and 2 1/4" wide saw blade and brass back at the time was $34 for a blade toothed, sharpened and set 14 ppi crosscut. Cheap as chips! Add in $14 for the slotted brass back, and the basic costs from a world class sawmaker was under $50! Unbelievable!
The handle was more work than it appears. The lamb's tongue is a raised carving ...
It differs from the "traditional" lamb's tongue, such as this mitre saw I made a few years ago ...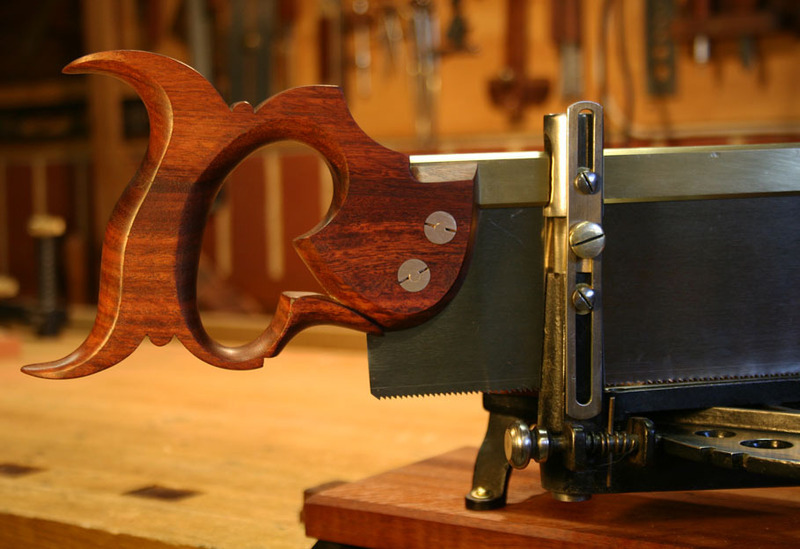 To make the carved one, you remove all the wood that is not a lamb's tongue. Simple.
The handle grip is also a design I was exploring at the time, where the lower section thickens (like a wooden plane handle) to force the grip upwards and under the upper horns. In my view, a back saw is balanced by the upper horns. The rear of the handle does not have the bulge one typically sees on back saws, such as this one ...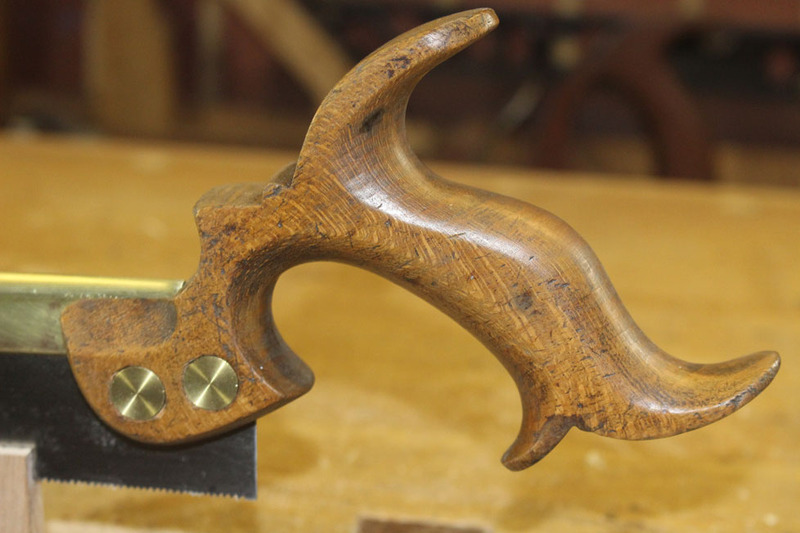 Even on this one, which is a dovetail saw I restored, I reduced the size of the bump. I find they are too large on many modern saws, almost a caricature of a back saw handle.
Regards from Perth
Derek
Messages In This Thread