Hand Tools Archive
Derek Cohen (in Perth, Australia)
I have not posted pictures of tools for a long time.
One of the pleasures I have is in using nice tools. These are a few I have been using recently when dovetailing in the current build.
5" Knew Concepts titanium fretsaw, Wenzloff & Sons 20 tpi dovetail saw, and a shop made 14 tpi crosscut saw ...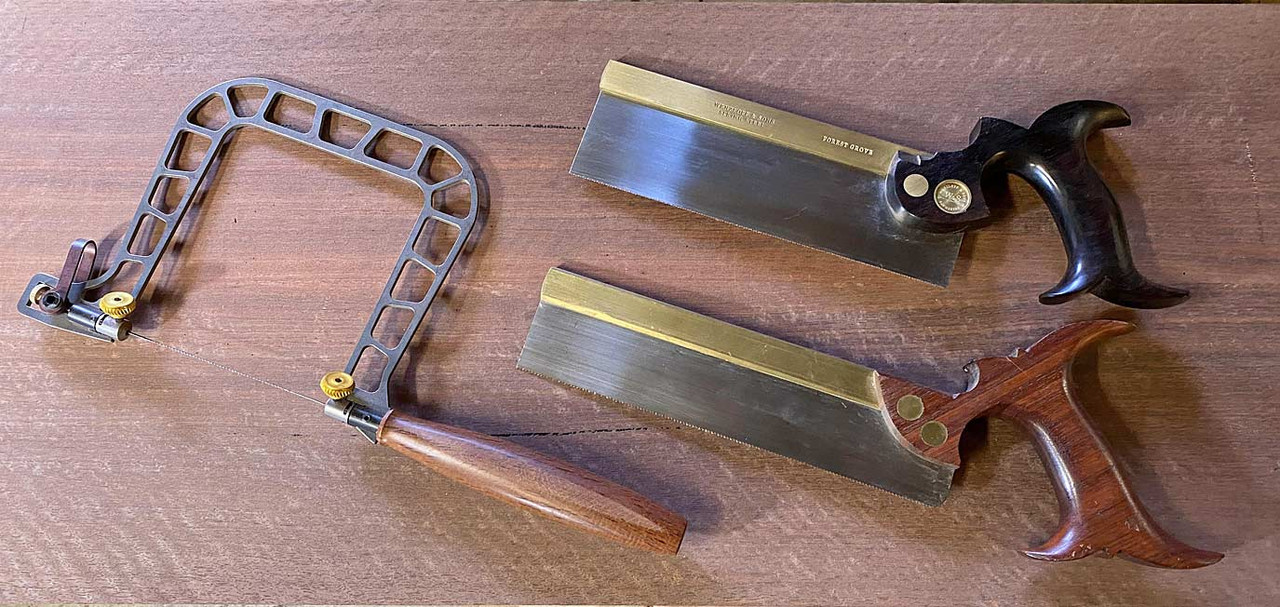 The KC fretsaw is a shop-modified (long handle) pre-production version (I helped the late Lee Marshall develop this saw design for woodworkers); the Wenzloff saw was a 60th birthday present (a decade ago now); and the crosscut saw was one I built for sawing the shoulders of tails (brassback and plate from Mike Wenzloff).
1/2" Kiyohisa Tsuki-nomi (slick), 1" Kiyohisa Oi-ire nomi (bench chisel), and 3/4" Fujikawa PM-HSS Oi-ire nomi ....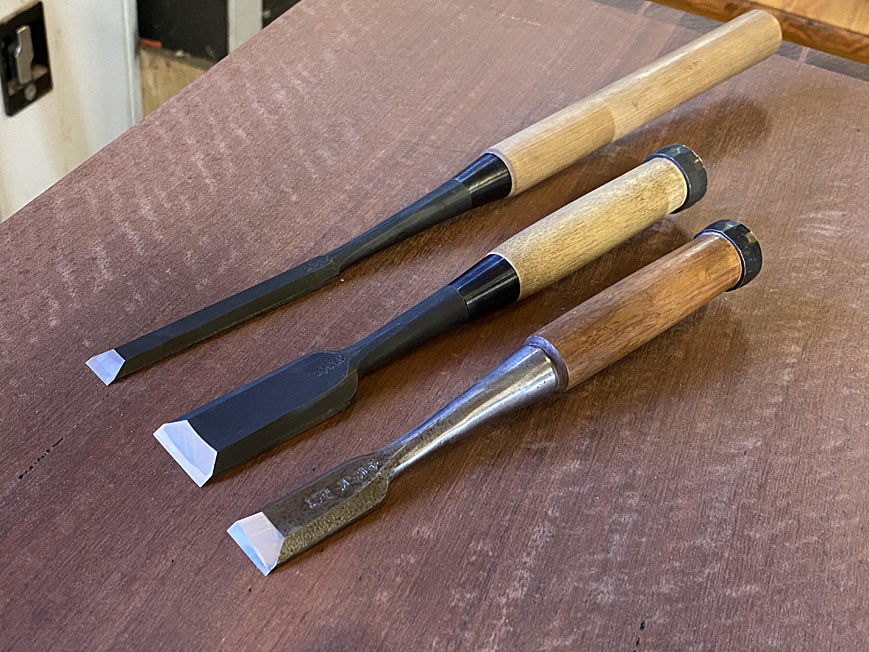 My set of Kiyohisa slicks were a three-year wait about a dozen years ago. Really, really worth it! Watanabe Kiyoei is very ill and will not be making more. A few years ago, when these were still available, the waiting list had grown to 6 years. I have a single 1" bench chisel of his, and I treasure it. All his blades are just superb - easy to sharpen and they hold an edge so well.
The Fujikawa was sent to me several years ago by Stu, when he was busy setting up Tools from Japan. He called this PM HSS. It has the hardest and most durable chisel blade I have ever come across. Perfect for chopping out Jarrah sockets!
1/8" Blue Spruce dovetail chisel, 1/8" Veritas PM-V11 and 3/32" Veritas PM-V11 bench chisels ...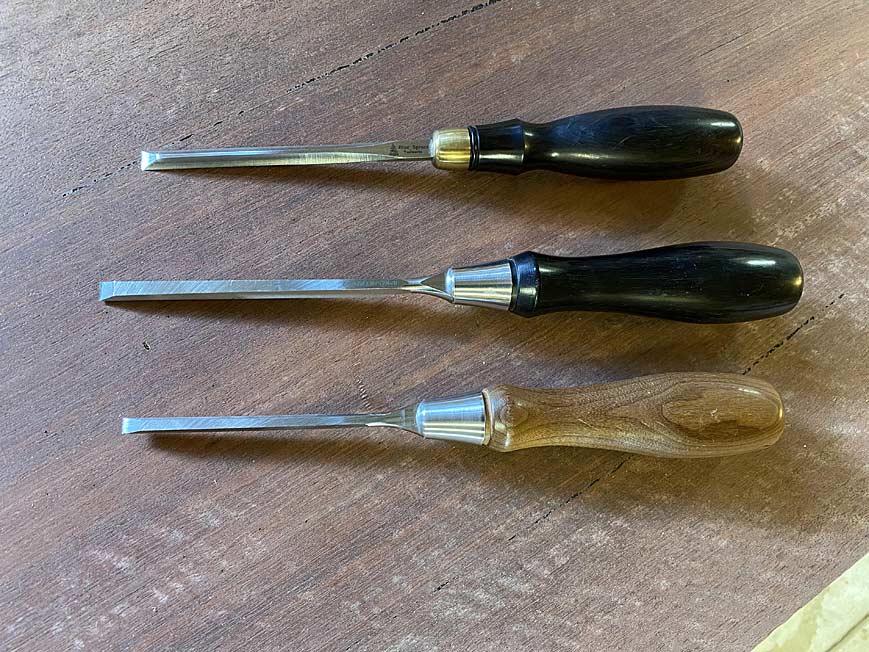 When making tails, the baselines are generally 1/8" across. To avoid bruising teh shoulders, the chisel needs to have minimal lands. These three are perfect.
Three 1/4" fishtail chisels: The Koyamaichi was the first fishtail made by Mr Koyama. A bit of an experiment; the Blue Spruce is a just wonderful; and the third is one I made from a pre-production Veritas chisel (received for field testing) - well Veritas have not made one yet, and I wanted to round out my set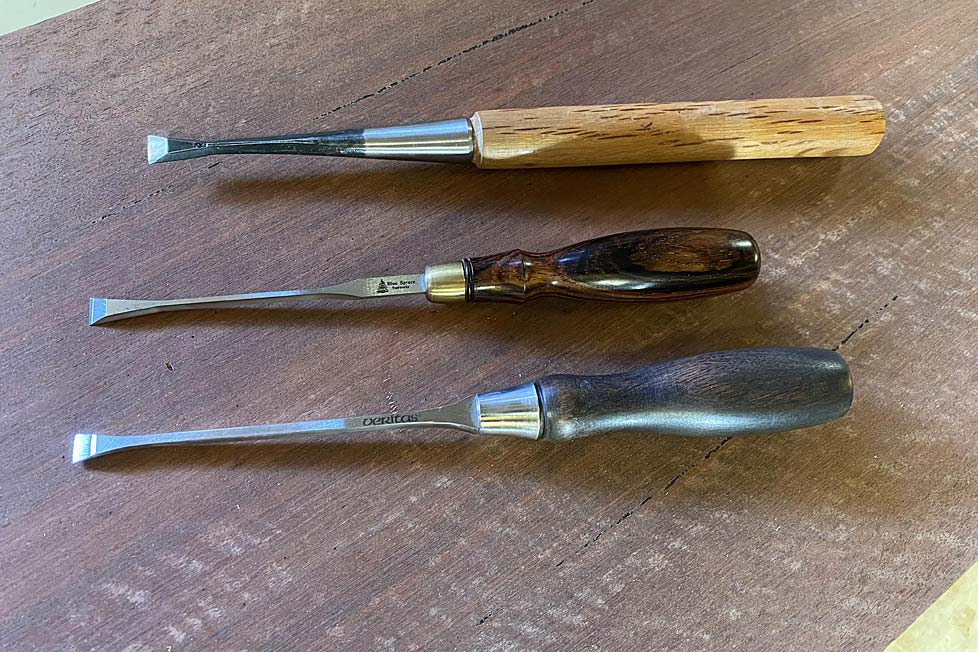 I have many cutting gauges. These are three I used: the large one is shop made, and I recently added the fine adjuster from Veritas; the middle is a Tite-Mark, and the small one is from Veritas/Lee Valley, useful to get into small areas ...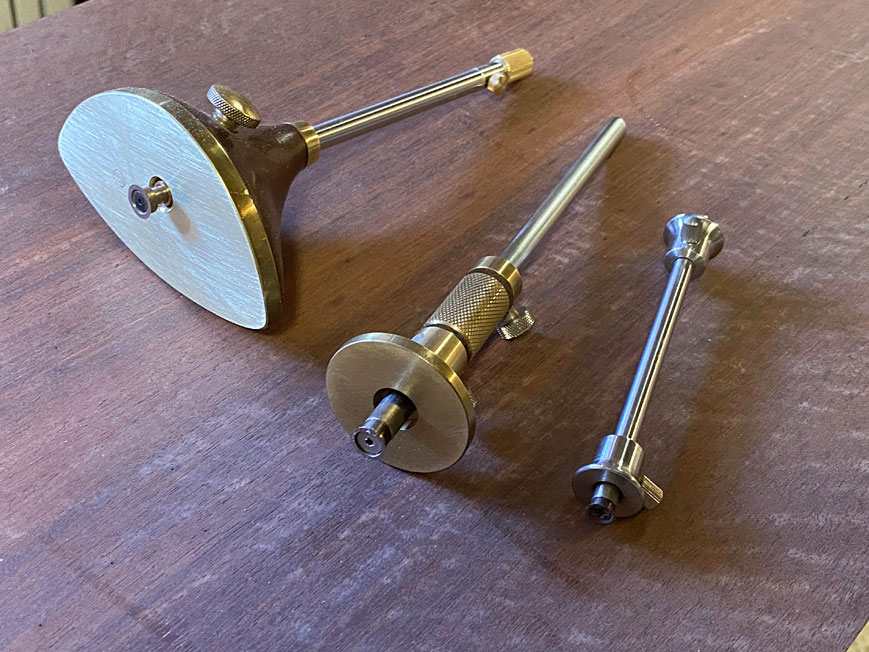 Regards from Perth
Derek
Messages In This Thread
Eye candy