Hand Tools Archive
Derek Cohen (in Perth, Australia)
So are you using a jig for blades wider than the wheel?

"Because the face of the wheel is so flat and does not change shape, it is possible to set it up as per a Tormek, that is, square the blade holder to the wheel and run the blade along the face. This produces an even and smooth grind every time. "

I have never used a Tormek, but have used clamp on guides and do not like them. It's another gismo to fiddle with. Picture or jig would be appreciated.
Hi Phillip
The Tormek BGM-100 arm on my bench grinder is the same as the one on the Tormek wet grinders, and the same one that Wiley posted using. My choice in using the BGM-100 was that it permits using a range of Tormek jigs, which are needed for lathe chisels (such as when grinding fingernails). For flat woodworking, it also offers advantages in precision which, as I illustrated earlier, creates a better quality grind. This translates into less re-grinding and faster sharpening in my experience. Still, I also freehand grind, as can be seen by the flat tool rest on my set up.
When I had a Norton 3X wheel, grinding a jack camber ...
Image from Tormek of the BGM-100 ...
Tormey and plane blade on the tool rest (same as BGM-100) ...
Years before I invested in a Tormek, I built my own version of the tool rest, inspired by an article by Ian Kirby (with which you are familiar). However, my design was aimed at using a belt sander ...
This was later re-designed to include adjustability. Both articles are on my website. The original design was featured by FWW magazine.
As Wiley has stated, include some adjustability when building the Kirby tool rest. There is a reason for this: on the Tormek or bench grinders, when not using a CBN wheel, the friability of the wheels enables them to be trued to the tool rest. However, the non-friability of the CBN wheel means that you have a very small range of measurements before the blade is ground out-of-square. William may argue (correctly) that planes can adjust for such blades, but the fact is that it is nicer (less effort) when this is not necessary.
The following may give you ideas in building an adjustable version of Ian Kirby's tool rest. The Mk II belt sander grinder: http://www.inthewoodshop.com/WoodworkTechniques/BeltSanderBladeGrinderMK%20II.html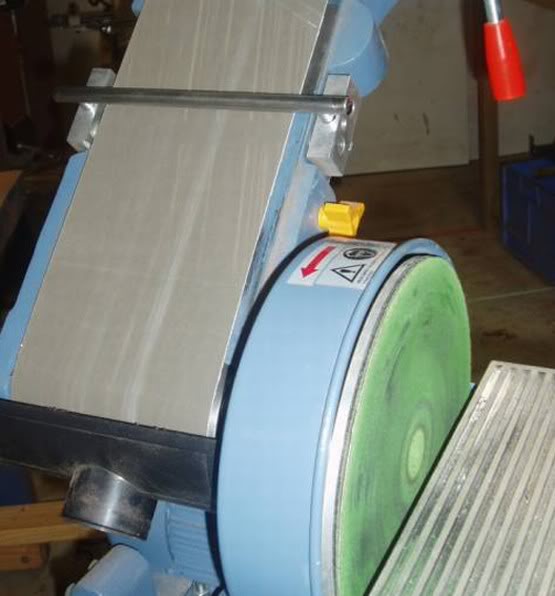 Regards from Perth
Derek