Hand Tools Archive
Subject:
LN #4 1/2 in bronze
Derek Cohen (in Perth, Australia)
Kent, it was my understanding that the #4 1/2 in bronze was to be a limited edition plane. Produced in 2006, I believe only 500 were made, and the moulds were to be destroyed. However, several surfaced in 2017, sold by LN. The current versions are likely more of the 2017 batch. The Anniversary planes are distinguished by distinctive engraved lever caps and were signed by Thomas Lie-Nielsen. They come with a certificate of authenticity.
I purchased one. It came with a 50 degree frog. Unfortunately - this was 2006, and long before I became familiar with using the chipbreaker - the cutting angle was too low to control tearout on my local woods, and so I later purchased a 55 degree frog. The combination of a heavy plane and a 55 degree frog was just too heavy and horrible to use, and the #4 1/2 wound up on my shelf.
A few years went by and I decided that a bronze LN #3 would be the go. Smaller plane, and it would make nice change from the BU planes I was using. I went straight to a 55 degree frog. It, too, was too tiring to use, and it simply did not control tearout. This plane, too, was put away. The high angled blades on Veritas BU planes ruled.
A few more years went by, and it was 2012. We began discussing the chipbreaker. The #3 came off the shelf and I began to learn to set it up, initially with the high angle frog, but then with a common angle (45 degrees) frog. As I became more proficient setting the chipbreaker, so the #3 was used more frequently. It is a sweet plane. Today it is used with a PM-V11 blade.
With this success, the #4 1/2 was given a common angle frog as well. Well, talk about transformed! Still a heavy plane, and more so than I prefer these days, it is a wonderful user on wide book-matched panels, especially when planing against the grain where the panels join. If you like a heavy smoother, this #4 1/2 is an excellent plane.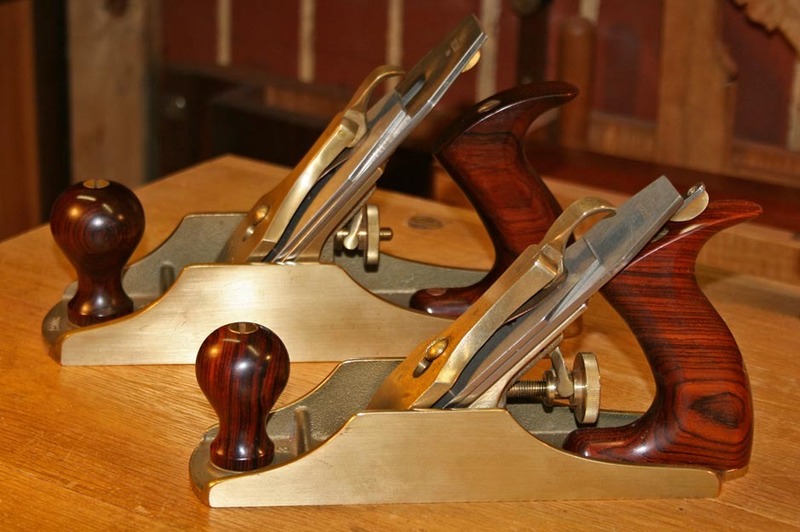 Regards from Perth
Derek