Hand Tools Archive
Subject:
Re: Somewhere....
Derek Cohen (in Perth, Australia)
Hey Charlie, I do miss your stirring of the pot. Welcome back
Sandpaper is quite often used in fine instruments, etc, because the surfaces are curved and the objective is to have a surface that shows no marks on something like a violin or archtop guitar.
David, this is really the point. We all know why we prefer hand planes to sandpaper on flat surfaces - its relatively dust-free and leaves a clearer surface.
However, there are some surfaces where sanding is a preferred method and, frankly, anything else is likely to leave a lesser surface. Curved and rounded edges come to mind. For example, I scrape, then sand, curved drawer fronts.
I smoothed off the rounded dovetails (created with planes) with sandpaper.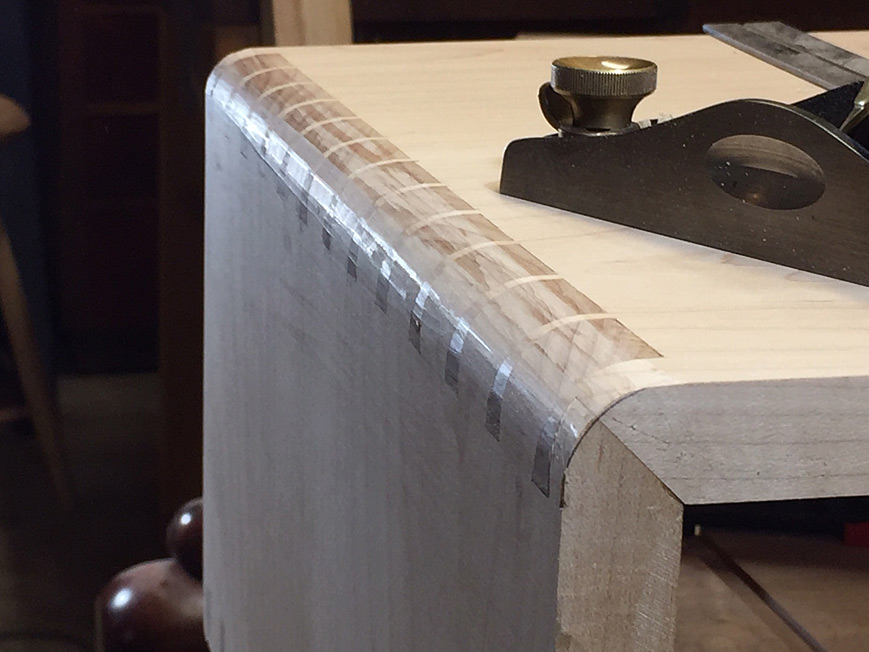 Some flat surfaces are easier to sand, such as the 1/4" thick panels I have been making for drawer bottoms. These run cross-grain, which makes with-grain planing less attractive. Planing 1/4" thick drawer sides is no biggie.
So why the antagonism towards sandpaper? This discussion is off the original topic of blade steel. Why? Because someone reacted to the notion that work could be done better with a double iron when sandpaper was mentioned. Sometimes it is not always about double irons.
I look forward to more on the blade steels.
Regards from Perth
Derek