Hand Tools Archive
Subject:
Apothecary Chest - new knobs
Derek Cohen (in Perth, Australia)
When I attached the metal knobs (too large and not right ... ugh!), I was swayed by Lynndy, who said to place the knobs square to the drawer front, since she liked the idea of them fanning from the front of the chest and accentuating the curve. In practice, this was not a good idea. Opening the drawers felt wierd - one is used to a drawer opening in the directing of the pull. These drawers did not do so. The opened at an angle to the pull. It felt wierd. Lynndy thought it charming. She is wierd.
Having turned new Black Walnut knobs to match the drawer fronts, against the advice of some who argued for dark, perhaps Ebony knobs, I know had to decide how I would fit them. As before? No, I did not want that. I wanted to set the square to the drawer recess.
There were two issues here: how to drill them the same as each other.? It would look a mess if some varied out of line. And then there was the fact that the drawer fronts curves and angled, which meant that the knobs would go in at an angle. One side would sit in- and the other side proud of the surface.
I designed a couple of jigs to drill accurately. Fortunately I did not waste time making them ( I have no time in the kitty to get this piece ready for the upcoming West Australian Woodshow. It is days away). The simplest solution occurred to me last night. Use the drill press. Duh!
All that was needed was to ensure the drawer was held vertically, and then use progressively larger bits until the size I needed (3/8"), the tenon of the knob.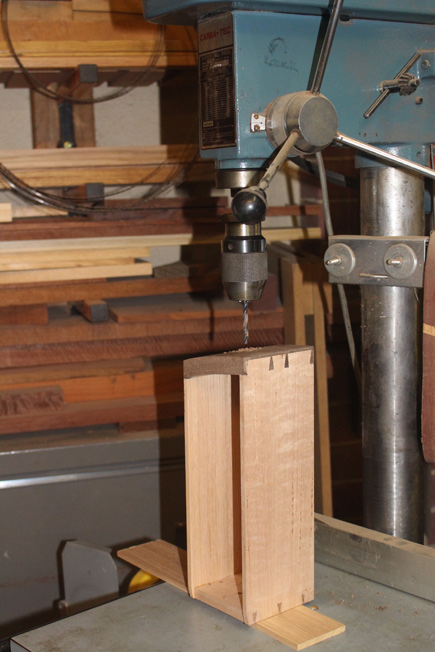 That went smoothly.
The holes were then widened slightly on one side with a step drill bit to allow to seat the knobs evenly.
I have begun installing the knobs with wedges. The cabinet and drawer fronts have had a coat of Livos oil, and you can now get an idea of how the knobs blend in (the drawers are proud of the cabinet as the oil is drying)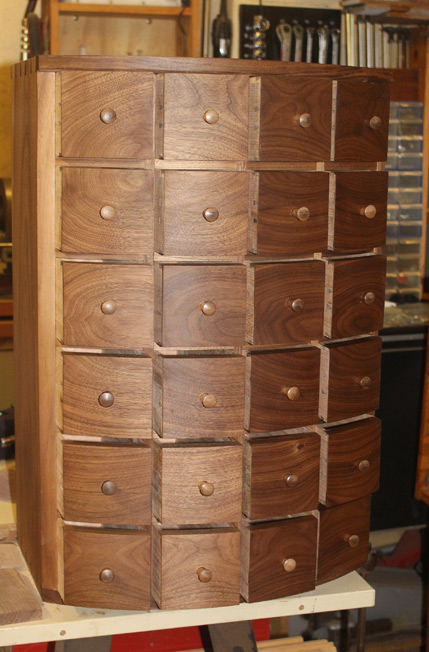 I completed the base for the chest this afternoon, but I am not thrilled with the design. I'll make a decision tomorrow whether to use it or not.
Regards from Perth
Derek
Messages In This Thread