Hand Tools Archive
Subject:
Apothecary chest - part three
Derek Cohen (in Perth, Australia)
We left off with a dovetailed carcase, which had been given stopped dados made with a saw, chisel and router plane. The vertical dividers were made, but yet to be installed. Chest on its side ...
The dividers will be fitted, so ...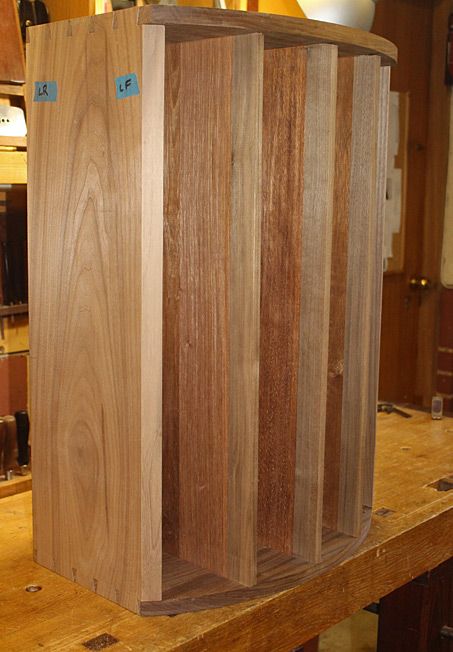 The dividers are slid in, and the section ahead of the stopped dado is marked with a knife ...
.. or a cutting gauge ...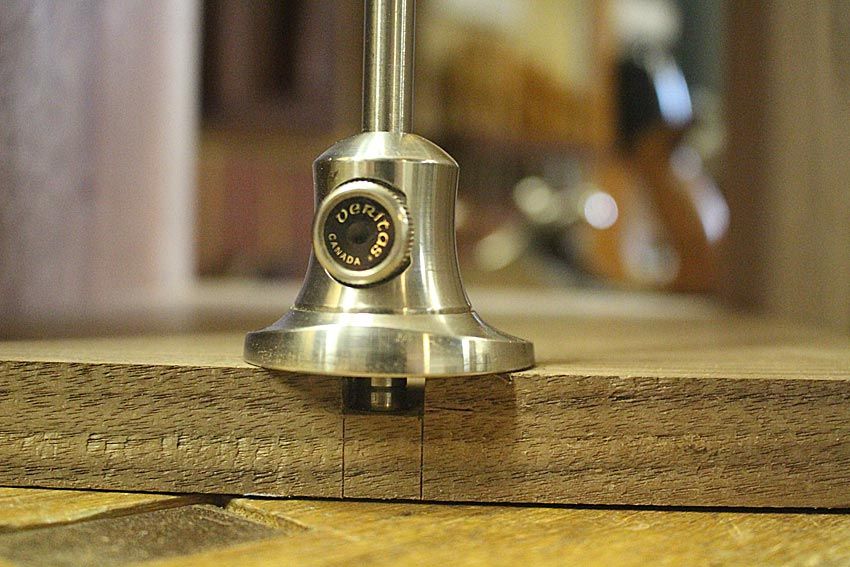 .. and then cut away (I prefer a Japanese dozuki for this cut and it is cleaner than off a Western saw) ...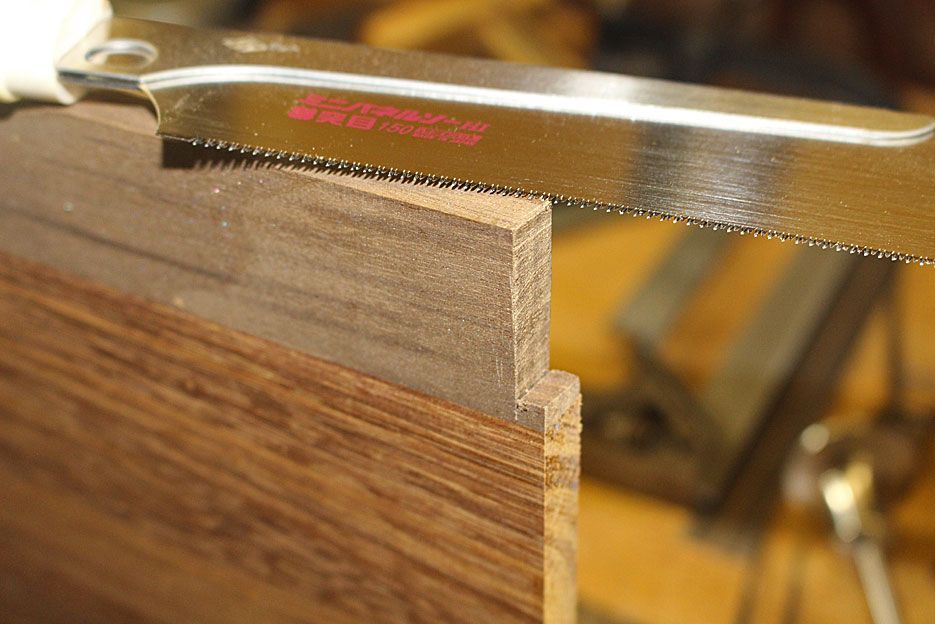 They need to be flush with the curved lower end of the chest (the sides dividers are yet to be shaped to the curve. That will be done later to avoid damage) ...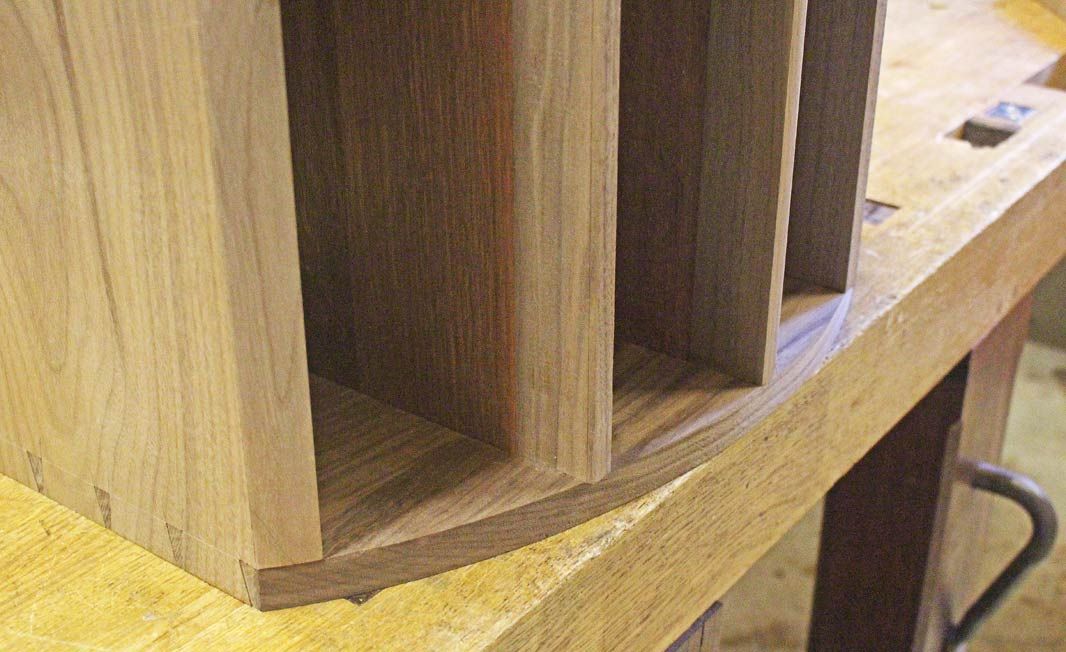 ... while the upper section of the chest has a 12mm overhang ...
Note that all measurements and marking is done from the lower end of the carcase/dividers. This is the reference end.
It is now time to add stopped dados to the dividers. The first step is to begin marking their positions. As before, this is completed with dividers ...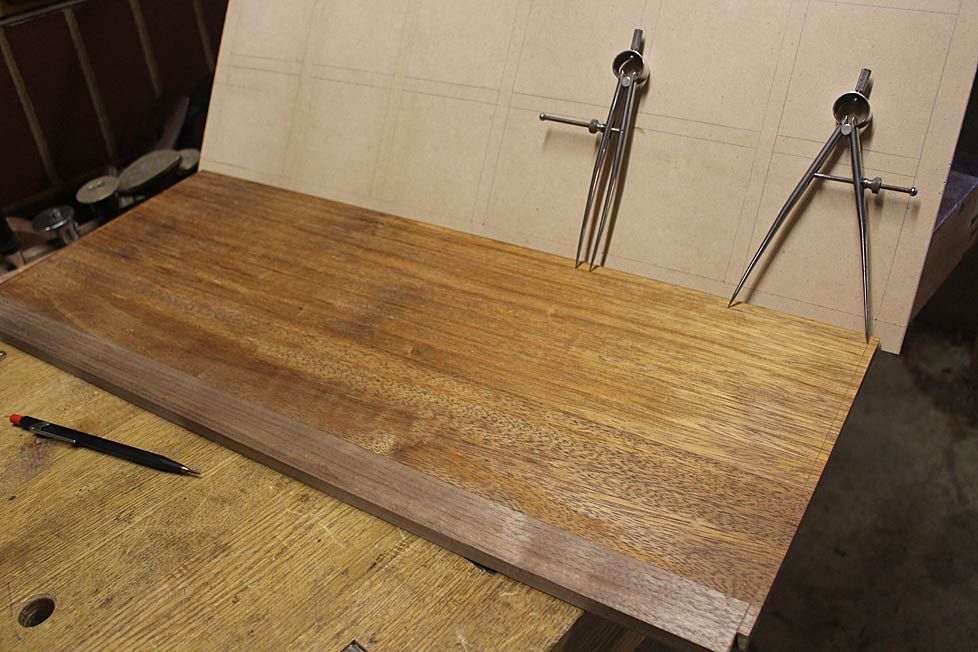 Each drawer is 100x100mm and the drawer blade/divider is 12mm ...
The dado lines are scored across the divider ...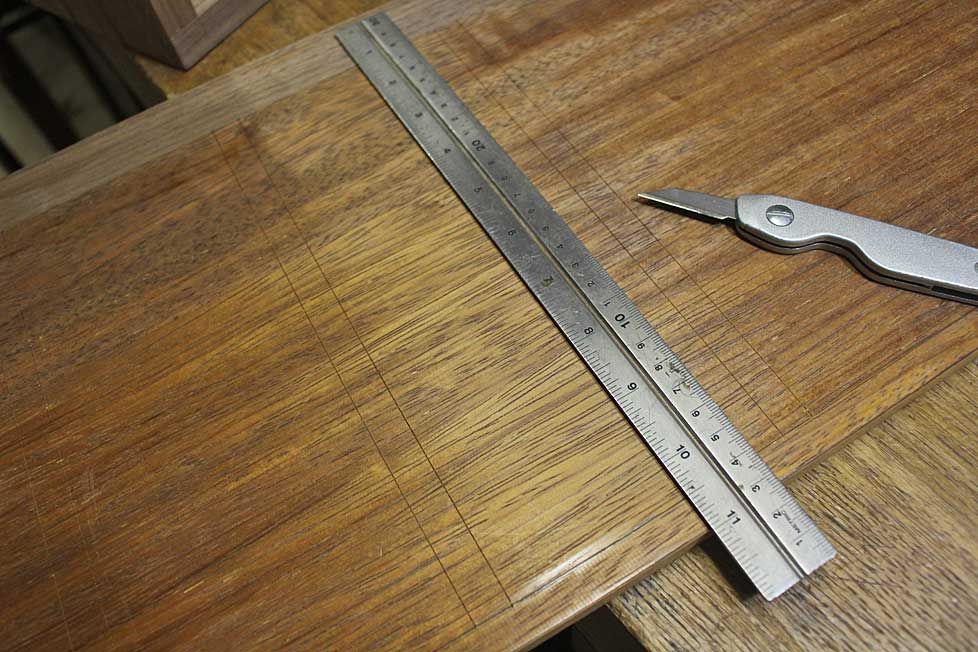 The ruler has a non-slip underside made of 400 grit wet-and-dry sandpaper, a tip I got from Andrew Crawford ...
The insides of the carcase are marked similarly ...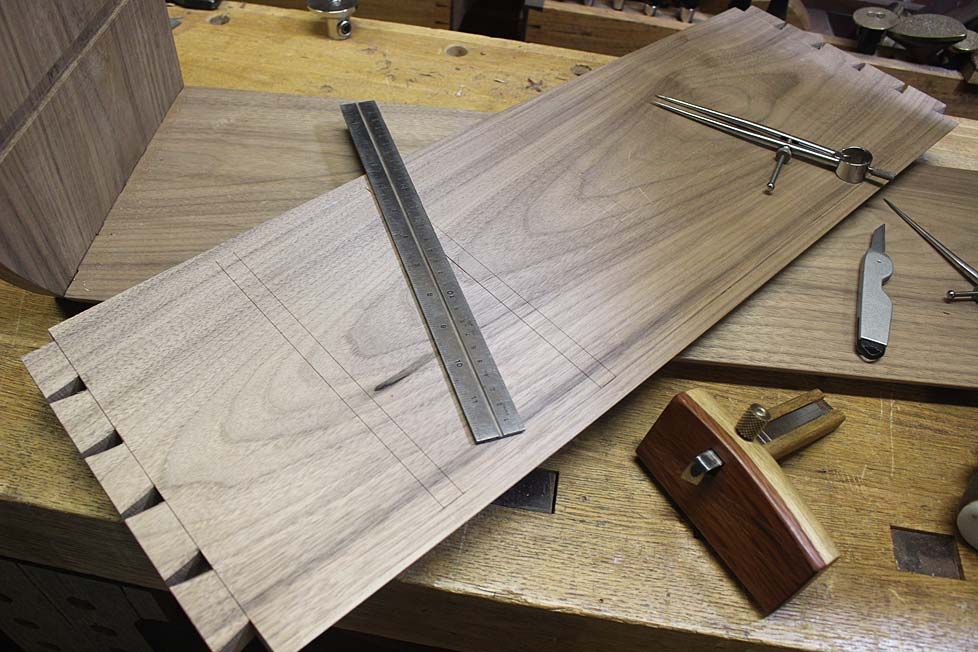 Finally all the stopped dados are marked. There are 40 in all - 10 in walnut and 30 in merbau. The merbau is an extremely hard and brittle wood. It was chosen as a secondary wood as it was cheap and will stand up to any wear from sliding drawers, unlike a soft wood like pine.
The dados are 3mm deep (as 12mm wide). With a 12mm thick panel, and 3mm from each side, there will be 6mm remaining. That is sufficient for structural integrity.
With 40 dados, I decided to use a power router, and built a simple guide ...
The guide is a one-shot job for a 12mm dado. Just place the slot against the lines made earlier, and run the router until it hits the stop ...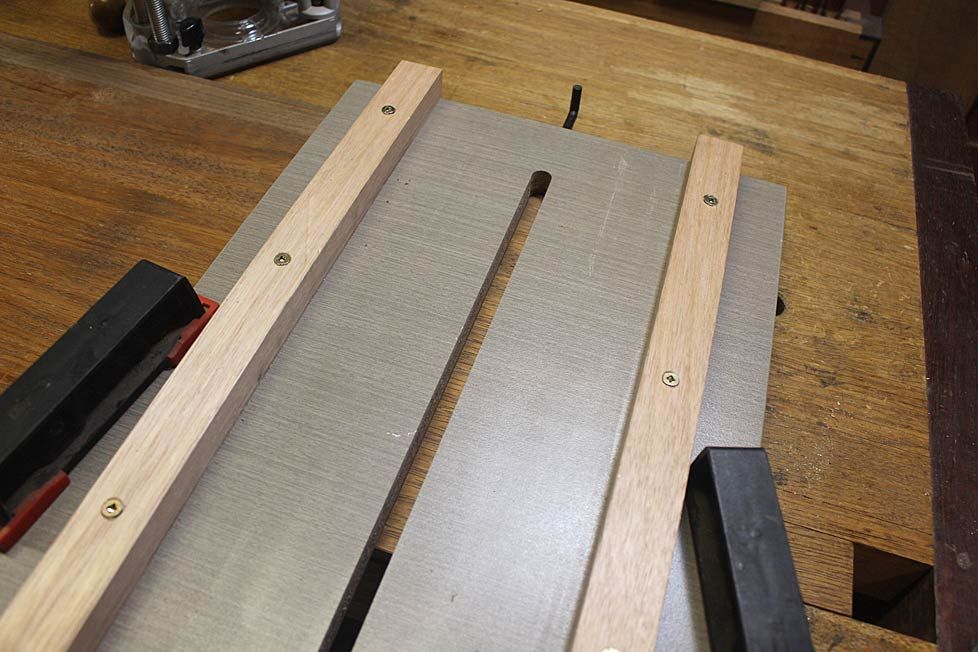 This is too easy ...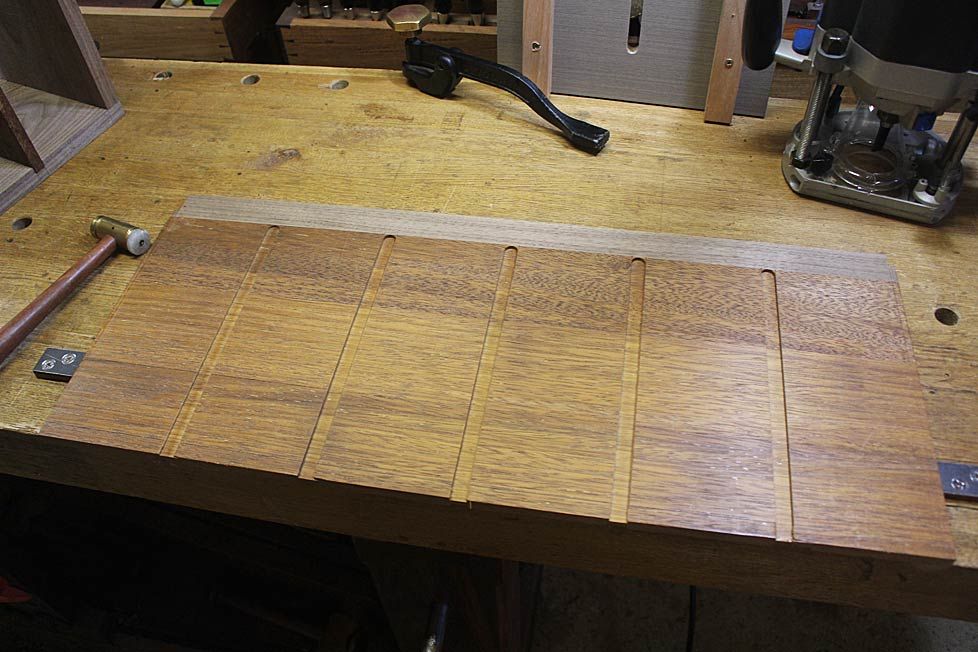 ... and I become complacent, and cut against the wrong line! Fortunatley, this is a simple fix and will not be seen ..
So, at the end of the day the chest is dado-ed to death. The horizontal drawer blades will be fitted next time. This is going to be an interesting time since they will curve to fit at the front.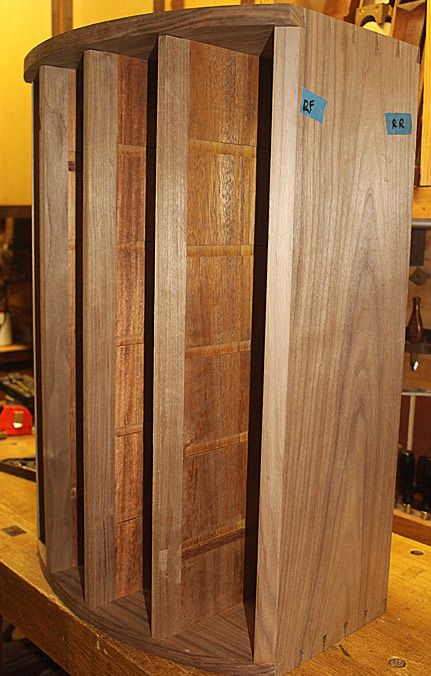 Regards from Perth
Derek
Messages In This Thread