Messages Archive
Subject:
Design progression *PIC*
Alan Young
Just curious, and maybe you've shown this in earlier posts, but is the base a separate construction from the carcase(s) or do those legs go all the way up through?
Thanks Boss-These clients were great. They had a different Buffet in this location that was not as long and protruded out into the room further than they wanted so they requested
1. A piece that was long enough to occupy this wall- but narrow enough to allow passage between it and the dining table(Not shown in my photos)
2 the new piece must not block the heat register- and 3. They have a home with Craftsman elements to it so a design in the Arts and Crafts form seemed appropriate.
This was an early idea-
Then I suggested this idea-a mirrored structure on top with extra shelf space for smaller items- and a case with a rounded carcase-
They didn't want the extra mirrow/shelving and didn't like the rounded form of the case.. I suggested this form with a client a year ago and they didn't go for it either Hah!
I tried to push the design with some blatant G&G elements -ie ebony accents with breadboard ends-but they shied away from those elements too- in the end the liked the extra details on the base stretchers and feet and the cloud lift element on the doors.They did not rush their decisions but seem to have weeded out the frill.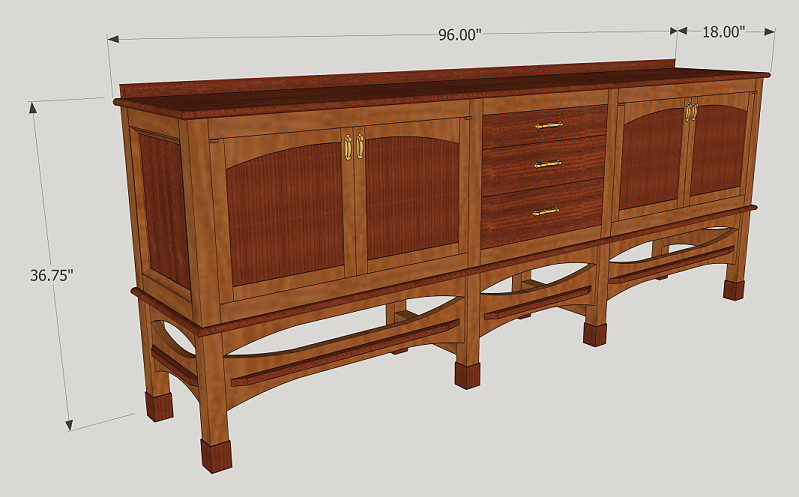 Given their requirements and my shops logistics it seemed best to make the base separate from the casework.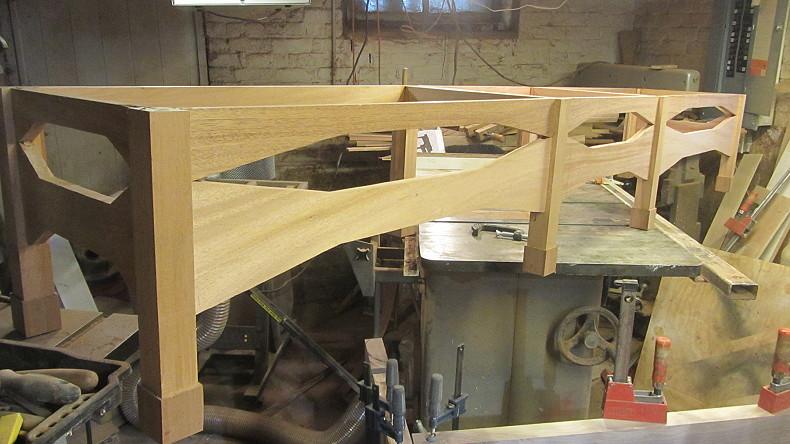 I glued and screwed a piece of plywood to the top of the base-This added structural stability
Main case work built to the same perimeters as the base.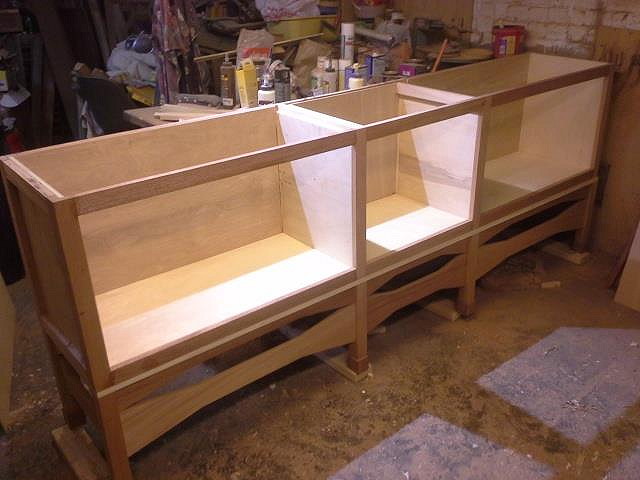 A 1.5" wide trim piece wraps around the base of the casework.


This allows the case to "cover" the upper plywood of the base and it gives the movers a lip to grab-
At this point I need to move this out of my shop as I have pieces for two other projects that I need to work on and there was no room- So I was able to move it to my son's basement shop-about a mile or so away where I did the finishing.