Messages Archive
Subject:
Re: Hastening dovetail making
Derek Cohen (in Perth, Australia)
Bill, several years ago I posted a series of pictorials on the Hand Tool forum about removing waste from dovetail half blind sockets (drawer fronts only). I was building a matching pair of miltary chests, each of which had 6 drawers - so there were plenty for experientation.
Each method was timed to assess relative efficiency. The drawer fronts were Jarrah, which is a very hard wood, and also vulnerable to splitting.
The quickest method of waste removal came from using a combination of power and hand tools. I only hand saw dovetails, and often these involve very narrow "London" tails. The thought of using power tools for this job was scary, however I had been shown a method by a friend, Neil Erasmus, a professional high end furniture maker based in Perth. This was identical to the method you used. Neil preferred a small router and a 1/8" upcut spiral blade.
I was encouraged by his success, however I think like a hand tool user, and came up with an alternate method: Instead of routing into the end grain, I chose to rout into the cross grain (this example shows my tentative first effort - I could have routed closer to the ends) ...
This made it easy to split out the rest of the waste with a chisel ...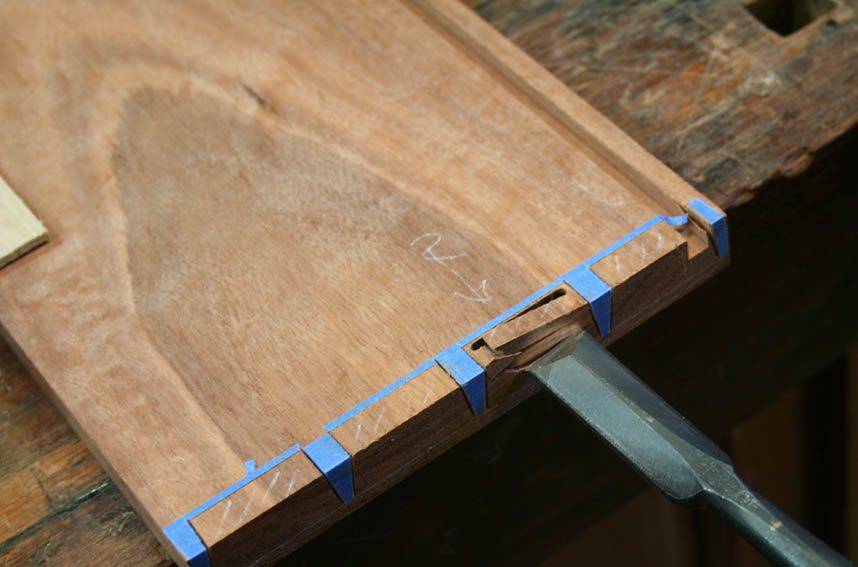 The corners of the socket had been deepened using the kerfing chisel, and clean up was quick ..
I do not use a router today - I may if I had that many drawers to do again - instead, I simply drill out the line, or close to the line, and split out the waste. It is efficient, less effort than chopping it all out. I am not racing the clock.
Regards from Perth
Derek